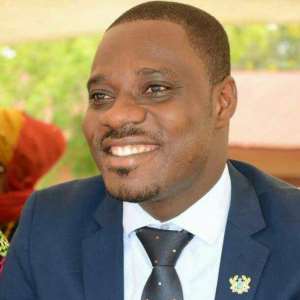 District Chief Executive (DCE) for Kwahu East, Isaac Agyapong in a collaboration with The Minister of State in charge of National Security and Member of Parliament (MP) for Abetifi Constituency, Hon. Bryan Acheampong, in the Eastern Region, has in a ceremony termed as "Teachers' Appreciations Day" honored and awarded over 1000 teachers within the District.
In a colorful ceremony held at the Kwahu Pepease on Friday December 14, both teaching and non-teaching staff were recognized and awarded for their dedication to their profession which is helping in shaping the lives of children in the district.
Each of the teachers numbering over 1000 a Melcom shopping voucher worth GH¢300.00. In addition there was an announcement of a scholarship package for teachers to study at the Presbyterian University College at Abetifi in the MP's constituency. Teachers who have been teaching in the district for 10 years and over are however the only teachers eligible to enjoy the scholarship.
Some outstanding teachers in the district also went home with individual awards. 27 teachers received a cash prize of GH¢2,000 together with either a fridge or a flat-screen television in addition to a half piece of cloth.
Addressing the gathering, DCE Isaac Agyapong called on the teachers to take motivation from their awards and push on to do more in the line of duty.
"It is my prayer that your commitment and dedication to providing quality education would not end today. It should rather be the beginning, because you will be subjected to high degree of responsibilities towards education, than before. So your award should spur you on to greater commitment and hard work as well as work towards the improving of education in our district", Isaac Agyapong said.
He further used the opportunity to show appreciation to the MP for Abetifi and the Education Directorate for helping in developing education in the district. He opines that through their collaborative effort they have been able to implement over 80% of their projects for this year.
"Permit me to express my gratitude to the Hon. Member of Parliament and District Education Directorate for their collaboration with the district assembly in providing the needed infrastructure and programme aimed at improving access and providing quality education. We have together implemented over 80% of our planned projects and programmes for 2018", the DCE indicated