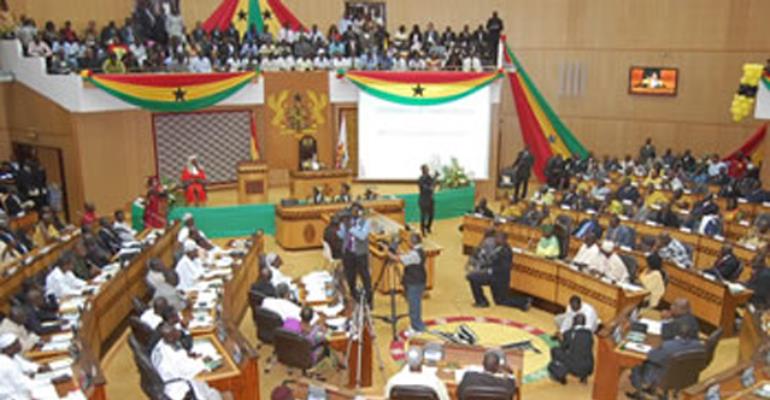 Ghana Members of Parliament have supported calls for review of better working conditions and their general welfare.
This follows a call by a member of the Advisory Board of the Ministry of Parliamentary Affairs for the state to pay legislators better than ministers since their work is very demanding.
The Advisory Board member, Yaw Boadu Ayeboafoh, who is also the chairman of the National Media Commission (NMC), argued that MPs deserve better salaries than ministers because the laws they enact have lasting effect on the people of the country.
Mr. Ayeboafoh made the proposal at day's engagement between officials of the Ministry of Parliamentary Affairs and the expanded leadership of Parliament under the theme, "Interrogating the Performance of Ghana's Parliament Under the Fourth Republic" in Accra on Tuesday.
He said for parliament to be more effective, the 1992 Constitution needs to be amended to disable the President from choosing majority of his ministers from parliament so that there could be proper separation of powers and total independence of legislature to effectively perform its oversight duty and properly check the Executive.
He said MPs would not be influenced by any powerful state actor if they are paid well.
The MPs, led by the second deputy majority leader and New Patriotic Party (NPP) MP for Trobu, Moses Anim, said the time has come for MPs to boldly trumpet their financial predicaments since members of the public think they are paid very well and therefore harass them with a lot of financial demands.
"People think that as MPs all our needs are cater for by the state, recently when I sent my driver to pay my electricity bills, people were shocked that I was paying electricity bills."
He, therefore, asked colleagues to start the crusade for the state to increase their salaries to meet the needs of their constituents.
The Minority Leader, Haruna Iddrisu, said that the effectiveness of the legislature also depends very much on the neutrality of the speaker of parliament, whose allegiance must be with parliament and not Executive for him or her to be compromised.
The Majority leader and Minister of Parliamentary Affairs, Osei-Kyei-Mensah-Bonsu, said the committees ought to be properly resourced to enable them perform their oversight roles well.
He stated  that capacity of the MPs needs to be constantly upgraded, stressing that the more time an MP spends in parliament, the more experienced and effective he becomes in the discharge of his parliamentary duties.
The MPs unanimously called for more time in parliament in order to become effective, pointing out that the political parties need to protect them in parliament to serve the state adequately.
---Daily Guide