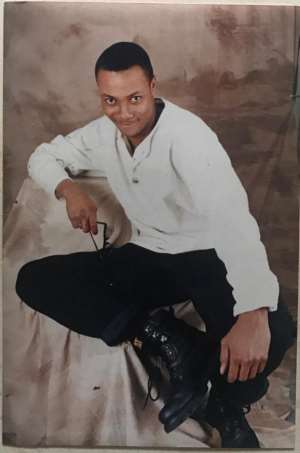 As Michael frantically searched the entire breadth of Kotoka International Airport for his estranged wife and children; who were fleeing back to London after years of chaotic cohabitation, he wondered if this was what rock-bottom looked like.
Michael was born in Ghana but lived most of his youth in England. When he turned 19, he was employed as a manager of a thriving nightclub, earning £ 10,000 a weekend. His career choice went hand in hand with a lifestyle of excess, including heavy partying with England's elite, luxurious purchases and exposure to the most exhilarating drugs that money can buy. At first, his cocaine use was manageable, a perk necessary for handling the challenges that being a night owl brought. It made him feel vigorous, and more importantly, invincible – his constant companion gave him superhuman powers to take on each day head on. But soon, the urge to use this new companion of his became stronger, overwhelming, and soon one line became five, until each night was a white, doped up blur.
After living recklessly for years, the time came for him to settle down and become a family man. He married a wonderful lady who understood and accepted him, flaws and all. England was home, but deep in his heart, he felt that Ghana was the best place to raise his children with good morals and values. So in 2004 he flew his family back home to start anew, cocaine addiction in tow.
As a returned expatriate he got a job quickly as a presenter for a highly popular TV show. He also supplemented his income by being a model for luxury brands such as Yves Saint Lauren and Giorgio Armani which saw him traveling around the world. His production team, the TV network and the audience all loved his personality and communications expertise. Unfortunately, unbeknownst to them, his infectious personality was fueled primarily by his cocaine addiction, which kept him in a heightened state of mania for days. He naturally started fraternizing with fellow addicts and was soon surrounded by a close-knit circle of users with the white substance being the string that held their fragile union together. One night, after a particularly intense alcohol and cocaine bender, the addicts quickly blew through their entire drugs stash and stumbled over to their dealer for a re-up. Unfortunately, the dealer had also run out of stock, so he offered them crack as a more potent alternative. The effects of crack are quick to be felt, with an intense euphoria that is relatively short-lived. As such, it is highly addictive as users consume it frequently to chase their high. Michael was aware of crack as a free base form of cocaine and although he had never tried it before, his need to get high overpowered his inhibitions, so he greedily accepted this alternative.
That was the day Michael graduated from a cocaine addict to a crack fiend. Crack tore his relationship with his family apart. His marriage gradually broke down because of jealousy, insecurity, fights and rampant infidelity that occurred because of his ever-increasing binges. One would have thought that Michael should have interpreted the dissolution of his marriage as his wake-up call. Instead, he fell into a deep depression, seeking solace solely in crack and coke. He replaced the void in his life created from the departure of his wife and kids with drugs. Shortly afterwards, he lost all his jobs and his days consisted of loitering between one crack den to another in search for a high. He quickly squandered his meagre savings, and was forced to sell all his properties to fund his addictive habit. He was alive but not living, full of crack but empty in his soul.
According to Mr Logosu Amegashie, Head of the Addictive Disease Unit under the Department of Psychiatry at the Korle-Bu Teaching Hospital, addiction is a chronic medical condition with the potential to create lasting harmful effects on the brain. If treated as such, long term success rates of getting into and staying in recovery will greatly improve. He stressed that addiction should not be regarded as a moral failure but rather as a chronic medical condition like diabetes, hypertension or asthma. Like other chronic illnesses, addiction is not treated but managed, with a high rate of relapse. While most addicts welcome the opportunity for treatment, most are conflicted about stopping their substance use. Medication assisted treatment coupled with counseling is the preferred treatment for recovery. An early intervention is more effective than waiting for rock bottom.
Mr Amegashie concluded that, addiction thrives in secrecy as addicts are only as sick as their secret. He noted with emphasis that transparency disempowers addiction, therefore he urges loved ones to empower addicted people to seek treatment instead of concealing their condition.
If you or someone you know is suffering from drug addiction please contact Henry Tetteh (Mental Healthcare Practitioner) on 0244-657-876.