Ata Ayi's accomplice denies making statement to police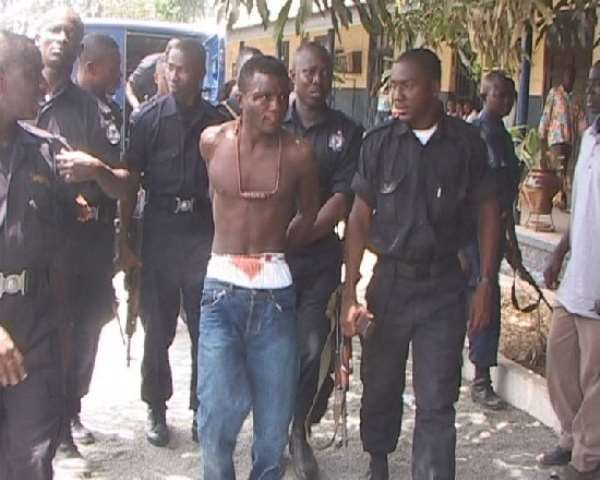 Accra, Nov. 17, GNA - Samuel Kweku Annan, an accomplice of Ata Ayi both facing robbery charges, on Wednesday denied his statement made to the Police when opening his defence in the 70-million cedi robbery incident at Dzorwulu three years ago.
Annan, Koblah Agbodoga alias Roger, Raymond Ameh and Aryee Aryeetey alias Ata Ayi are being tried for conspiracy and robbery. They have all pleaded not guilty and remanded in prison custody. Led in evidence by his counsel, Mr. J. K. Yeboah, Annan denied writing any statement to the Police but admitted thumb printing his statement adding "even that the police subjected me to severe beating before I thumb printed the statement."
He further denied that it was one Amuzu Kilo and Ata Ayi who offered him information about the complainant Mr. Bernard Boadi Agyeman, Managing Director of Prism Consult Limited.
Narrating how he was arrested, Annan said on December 13, 2003 he had a telephone call from Cudjoe Amedeka, an old pal and a car dealer. During the telephone conversation Amedeka complained about his finances so he (Annan) asked him to meet him in front of a friend's shop at Makola.
Annan said when Amedeka arrived they conversed for about 20 to 30 minutes and while conversing three men in plain clothes approached him. According to Annan one of the three men shouted out Sammy Tugah but he retorted that he was not the one.
Soon after, the three men handcuffed him and Amedeka and they were escorted to the Greater Accra Regional Police station where they were sent to two different places.
At the Police station, Annan said the police offered him a list of names, but he could not identify anyone on the list. Although the police took the list away from him, he was able to recall some of the names on the list.
According to him the list had the names like Razak, Raymond, Ata Ayi, Salaasie and Amuzu Kilo.
When he was asked about the robbery incident at Dzorwulu, Annan denied ever taking part but maintained he had series of cars including a BMW Golf 3 car.
He denied wearing any mask during the robbery neither did he collect a pistol from Ata Ayi during their operation. Annan who also dealt in pineapple and phones, denied owning a Madza Saloon car.
He told the court that among three identification parades held, he was never identified by anyone.
During cross-examination by Mrs. Evelyn Keelson, an Assistant State Attorney, Annan denied that he had 10 million cedis as his share after the robbery.
"I did not get any money, neither did I use six million cedis of the said money to repair my BMW car."
Annan objected to prosecution's claim that he was declared wanted by the police and therefore, had his pictures displayed on Television and in the dailies.
Prosecution: Your girlfriend Charlotte knows that you are called Sammy Tugah?
Annan: My nephews and nieces sometime call me Uncle Sam and not Sammy Tugah.
The case of the prosecution was that on October 14, 2003, Mr. Bernard Boadi Agyeman, Managing Director of Prism Consult Limited sent one of his workers Iliasu Mamudi to cash a cheque for 70 million cedis from the Opeibea branch of the Standard Chartered Bank, near Kotoka International Airport.
Prosecution said after cashing the money, which was put in a bag, Mamudu saw one Isaac Yanney, Managing Director of Investhec Company Limited who said he had an appointment with his boss (Mr. Boadi) at his office at Dzorwulu.
Mr. Yanney therefore offered Mamudu a lift in his car and the money cashed was put in the booth.
On their way to the office, the accused persons who were using a salon car trailed them until they reached the office at Dzorwulu. Prosecution said as soon as they parked their vehicle, the accused persons parked behind them, got out of their car and started shooting indiscriminately.
Accused persons ordered their victims and other bystanders to run from the scene.
Prosecution said the accused persons fired several times at the booth, took the bag containing the 70 million cedis, entered their car and fled.
On December 18, 2003 Sammy Tugah and Agbodoga were arrested upon a tip-off and during interrogation mentioned Ameh and Ata Ayi as their accomplices.
The case was adjourned to November 22.