President Akufo-Addo Must Sack John Owusu Afriyie Now - Not Tomorrow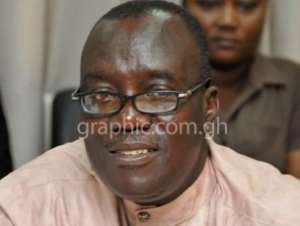 It is most extraordinary that the Forestry Commission of Ghana is apparently unable to pay the thousands of unemployed young people it recruited to work for it about four or so months ago. Incredible. That unfortunate and embarrassing situation, illustrates perfectly, the lack of original and creative thinking that has characterised John Owusu Afriyie's leadership of that vital state-owned organisation - which has such a crucial role to play in enabling our nation successfully cope with the negative impact of global climate change in resilient fashion.
It is instructive that John Owusu Afriyie talks endlessly about timber utilisation contracts and defends the issuance of exploratory gold mining licenses in forest reserves - when he should be seeking to unlock the value in our forests through low-carbon development deals and leveraging carbon offset markets. Now he has ended up embarrassing the well-meaning President Akufo-Addo, who has demonstrated his commitment to the preservation of what is left of our nation's natural heritage, to the world, by taking drastic measures to curb the excesses of the powerful gold mining industry that was resulting in the poisoning of streams, rivers, groundwater sources and soils across vast swathes of the Ghanaian countryside.
Enough is enough. The time has now come for President Akufo-Addo to get rid of John Owusu Afriyie, and replace him with someone who will ensure that the Forestry Commission earns billions of dollars in low-carbon development deals - such as that which Liberia has struck with Norway for example. The question is: What stops the Forestry Commission from approaching dynamic and innovation-driven companies such as Amazon, Google, Facebook and Apple - and asking them to neutralise their carbon footprints in carbon sequestration deals that will enable it to earn money to pay its entire workforce well? Ditto find the wherewithal to fund the greening of our homeland Ghana - to counteract the effects of global warming. President Akufo-Addo must sack John Owusu Afriyie now. Not tomorrow. Haaba.