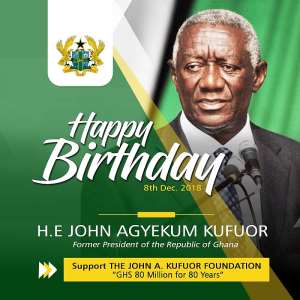 John Agyekum Kuffour
This is the man who has changed the face of Ghana Forever, Discovered Oil in Commercial Quantities, Abolished Health Cash and Carry and Replaced it with the National Health Insurance Scheme, School Feeding also came from him, Metro Mass Transport was also fished out of his bag, not forgetting the Free Maternal Care for all pregnant women plus three months Post-Partum.
Remember how it was to travel on the Aburi mountain trail ?, two hours from Aburi to Adenta and the motorists nightmare from Adenta through Abeka to Mallam Junction ?, three hours, today thanks to His Excellency visionary leadership, Aburi Mountain Pass has a Dual Carriageway which has shortened the travel time from Aburi to Adenta from two hours to barely 20 minutes, and the notorious Adenta through Abeka to Mallam Junction is just 25 minutes, down from three hours, thanks to the Tetteh Quarshie Interchange and the N4 highway, three hours gridlock has shrunk to just 25 minutes, this a man with unique leadership qualities of the highest order.
In the year 2001 when His Excellency took the reins of power from former President Rawlings led NDC government, Accra to Kumasi could sometimes take three days, the bridge on the Densu river has collapsed two years earlier and motorists had to take a detour through Asamakese while others took the Aburi-Koforidua horrible and dangerous pass, vehicles also got STUCK in the mud at Dadieso because that stretch was spoilt beyond imagination, this was after the Pndc and NDC's combined reign of 27 years, it is not for nothing that the description INCOMPETENCE fits the NDC like it's own shadow, that Dadieso albatross which hitherto has been hanging around our necks was Asphalted in no time by His Excellency President Kuffour, the Nswam Densu bridge was completed within six weeks by His Excellency Government, the bridge which was a single lane when it collapsed became two lanes plus bicycle and pedestrians lanes respectively.
President Kuffour also introduced the Mass Cocoa Spraying Exercise which brought about record tonnage of cocoa but was later politicised and ultimately abandoned, the lists goes on and on, this is a man with unique leadership qualities of the highest order.
So on this Special day the Entire NPP Germany Branch led by our Dear Chairman Rev Alex Acheampong and myself says Your Excellency, Your LEGACY and GOOD DEEDS has been Ex Libris in our hearts and minds forever, " SUPER HAPPY BIRTHDAY YOUR EXCELLENCY PRESIDENT JOHN AGYEKUM KUFFOUR, MAY THE GOOD LORD RICHLY BLESS YOU TODAY AND FOREVERMORE SIR "..
...Signed....
Nana Boateng
Npp Germany Branch Communications Director.