[Live] Early clashes on Paris' Champs-Élysées as Yellow Vest protest begins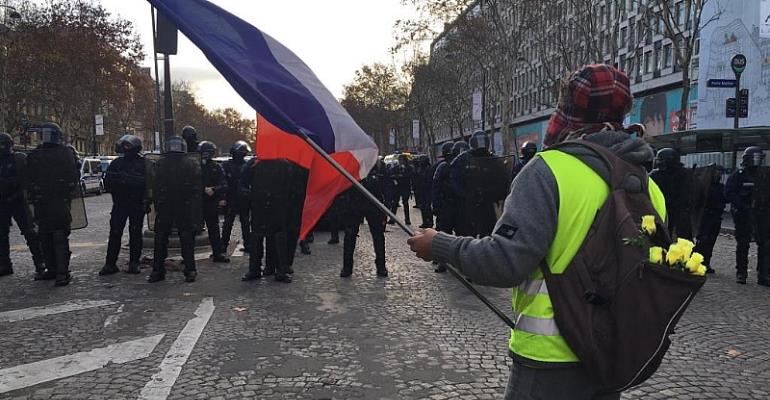 Paris riot police have clashed near the Champs-Elysees boulevard with Yellow Vest protesters who are staging another weekend of demonstrations against French President Emmanuel Macron.
Police fired tear gas in a bid to push back hundreds of protesters gathered around the shopping boulevard and the Arc de Triomphe monument, AFP journalists reported.
Police estimated that around 1,500 protesters had gathered in the area.
More than 480 people have been detained, including 211 arrests.
AFP reported that at least 34 people were arrested for carrying masks, hammers, slingshots and rocks that could be used to attack police.
Champs-Elysees protesters
Dozens of demonstrators began gathering in the early hours on the Champs-Elysees, the scene last Saturday of the worst rioting in Paris for decades.
By midday Saturday morning, police had already detained 514 people and arrested 272.
French authorities have boosted security provisions with 89,000 police deployed nationwide. In Paris alone 8,000 are patrolling the streets along with 12 armed vehicles.
They are also carrying out checks on people arriving at train stations and at protest hotspots such as the Champs-Elysees and Bastille monument.
'Nothing to lose'
Despite government calls for yellow vest protestors not to converge on the capital and to stay away from those looking to make trouble (casseurs), some have made it a point of honour to come to Paris.
"I've come to Paris to protest, but in a peaceful way ," François Pellaise told RFI. He's travelled down from Normandy in northern France with 10 friends and has brought along first aid equipment.
"Should there be problems we've got armbands with red crosses and could bandage wounds if necessary."
He says he won't be throwing projectiles or smashing windows, but understands some violent reactions.
"Some people have nothing to lose. Even early in the month they struggle to make ends meet; to a certain extent I understand this violence."
One of his fellow travellers is a 37 year old mother of three.
"I'm not going to Paris to smash anything up or steal, but it's frightening to think the riot police would hit us. My husband didn't want me to come but I feel it's my duty. If we don't go, there'll be no one."
Government crisis
Last weekend's violence, which saw some 200 cars torched and the Arc de Triomphe vandalised, shook France and plunged Macron's government into its deepest crisis so far.
Interior Minister Christophe Castaner said he expected "only a few thousand people" to descend on Paris after the 8,000 protesters counted last weekend, "but among them are ultraviolent individuals".
"These past three weeks have produced a monster that its creators no longer control," Castaner said, vowing "zero tolerance" towards those aiming to wreak further destruction.
Prime Minister Edouard Philippe on Friday evening met a delegation of self-described "moderate" yellow vests who have urged people not to join the protests.
After the meeting a spokesman from the movement, Christophe Chalençon, said Philippe had "listened to us and promised to take our demands to the president".
He added that only Macron, who has said he won't speak until after today's protests, will be able to calm the situation down.
"This is an historic moment," he told BFMTV , "Now we await Mr Macron. I hope he will speak to the people of France as a father, with love and respect and that he will take strong decisions," he said.
Paris closes down for the day
Shops, museums, the Eiffel Tower and many metro stations are closed as much of the city-centre has gone on effective lockdown. Top-flight football matches and concerts have been cancelled.
Department stores were also staying closed due to the risk of looting on what would normally be a busy shopping weekend in the run-up to Christmas.
The Champs-Elysées, where several shops were ransacked last Saturday, is unrecognisible with the majority of luxury shops and cafés boarded up.
A restaurant owner close to the Arc de Triomphe who was boarding up his premises on Friday night told RFI he wasn't taking any risks
"I fear the worst, I'm anxious" he said. "I'm worried about all the equipment getting stolen. My neighbour lost 50 chairs last Saturday, they used them to make a fire, it was pure vandalism."
Some, like pharmacist Véronique Poret, had no choice but to close her shop, just a stone's throw from the Arc de Triomphe.
"The Prefecture de Police instructed us to close but we'd have done it any way. The building next door was torched last week. We're worried about getting ransacked, our computing equipment getting damaged. We've backed up all the data just in case."
Poret told RFI she had some sympathy with the yellow vests, and shared concerns over fuel taxes and diminishing purchasing power. But deplored the violence.
"They have to understand it's not just the provinces that are affected, we're over-taxed in Paris too. If we could protest calmly, peacefully, we'd do it. They're taking a swipe at Paris but have to understand that we have problems and they're just as serious"
Foreign governments are watching developments closely in one of the world's most visited cities.
The US embassy issued a warning to Americans in Paris to "keep a low profile and avoid crowds", while Belgium, Portugal and the Czech Republic advised citizens planning to visit Paris over the weekend to postpone their visit.