Sampson Tweneboa Kodua Is Best Farmer In Kumasi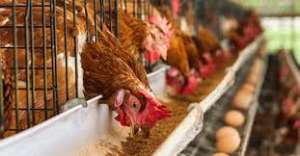 The owner of Opowus Farming and Trading Company Limited at Santase, Kumasi with 300 bird poultry farm, 100 cattle, 100 pigs and 40 acres of maize plantation has been adjudged the best Farmer in Kumasi
Mr Sampson Tweneboa Kodua, 60 years, emerged the overall best farmer in the Kumasi metropolis, at a ceremony held to commemorate this year's farmers' day celebrations at Ohwim-Amanfrom.
He was rewarded with a bicycle, television set, a mattress, knapsack, a certificate and other farm implements.
Twenty other farmers, including the Amanfrom Camp of the Ghana Prisons Service and the Presbyterian Girls Vocational Institute at Atonsu, were also awarded.
They received machetes, wellington boots, Agro-chemicals, bars of key soap, spraying machines, mattresses and certificates.
Mr. Osei Assibey-Antwi, Kumasi Metropolitan Chief Executive in an address said agriculture was the bed rock of every country and urged the farmers to take advantage of the many interventions provided by government to boost agricultural production.
He said the one village on dam and the one district one factory policies being implemented by the government was a major step to provide irrigation facilities to help boost crop production and add value to agricultural products.
The government, he said was committed to ensuring that agricultural produce were not destroyed and that was why it was providing ware houses across the country to ensure safe keeping and marketing of farm produce.
Mr. Antwi added that subsidies on fertilizer and other farm inputs were to help support farmers to increase yield at a lower cost and advised farmers to adopt modern agriculture practices and engage extension officers on their farms.
He also urged the public to patronize and eat locally produced food to create market for Ghanaian farmers.
Mr. Rauf Abdallah, a former best farmer admitted that the introduction of the planting for food and jobs programme by the government had helped boost food production in the country.
He called for more storage facilities to store vegetables because the post-harvest losses were affecting food production.
---GNA