Police, Prosecutors and Judges Toughened on Cyber Security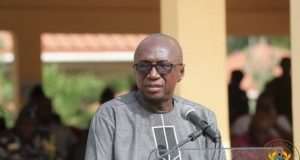 Judges, prosecutors and police officers have armed themselves mentally on cyber-security training programs organised by Government for key stakeholders in the justice delivery system in the country.
The Minister of the Interior, Ambrose Dery, said the move is part of government's grand scheme towards fighting the growing menace of cyber crime.
Reports have shown that both public and private entities have lost millions of Ghana cedis over the past few years due to the activities of cyber-criminals with banks, security installations, and other government agencies being the most targeted.
In an interview with Citi News, the sector minister said the measures put in place by government would yield desirable results.
"Ghana has also established the national cyber-security clinical working group to implement our cyber-security policy and strategy with the intention of reducing cyber-crime incidents. I am happy that many judges, prosecutors and police officers, have been trained," he said.
In July, the Financial Forensics Unit (FFU) of the Criminal Investigation Department (CID) of the Ghana Police Service, arrested 12 suspects in the biggest ever cyber-crime burst in recent history.
A circuit court remanded all 12 suspects into police custody.
The suspects, believed to be part of a wider cyber-crime syndicate made up of Nigerians and Ghanaians, attempted transferring a whopping GH₵326 million from the vault of Universal Merchant Bank (UMB) electronically.
The bank detected that the amount was transferred electronically into the internal operational accounts of UMB and subsequently credited to the accounts of certain customers.
UMB, having suspected that its Information Technology Security infrastructure has been tampered with, quickly alerted the Financial Forensics Unit of the CID, who dispatched personnel to all branches of the bank to arrest persons who will visit the branches to withdraw money from identified accounts credited with the money.
It was discovered that the accounts that the monies were credited to were all single-purpose accounts opened purposely to receive the stolen money, and UMB quickly flagged all the accounts.
Each account was credited with between GH₵10 million and GH₵15 million.
---citinewsroom