The Quiet Life Of Yahya Jammeh The Farmer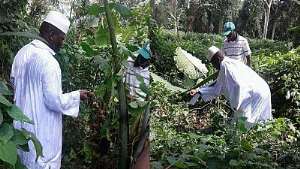 "The Gambia is in financial distress. The treasury is essentially empty. This is the real state of affairs," said Special Adviser Mai Ahmad Fatty, after the former president of the Gambia, Yahya Jammeh, emptied the coffers of the government, plus a fleet of luxurious expensive cars, in the last weeks of his tenure and transported them to Equatorial Guinea, where he requested for political asylum.
Jammeh had been the Gambian leader since 1994 and unexpectedly lost the next presidential election. Without any difficulty, he accepted defeat, when his opponent, Adama Barrow won the elections. Then suddenly like a demon entering into the head of Jammeh, he swore not to step down. All pressures from some African leaders fell on deaf ears.
Yahya Jammeh was born into a poor family in a small Gambian village, but, taking the presidency in 1994, he did not deny himself anything. For example, the politician owned a whole fleet of Rolls-Royce cars, each of which had his name embroidered on the head restraints.
At the same time, the average annual income of residents of the Gambia, according to the World Bank, is $ 460. The former Zimbabwean leader, Robert Mugabe and Jammeh have something in common. Both refused to step down years after becoming presidents and also don't like homosexuals.
In 2008, the topic of homosexuality attracted Jammeh's attention. "Homosexuality is the Antichrist, Anti-human, Anti-Civilization. Homosexuals have no place in the Gambia. If we catch a gay man, he will regret having been born, "the president said.
In 2012, Jammeh bought a mansion in Washington for $ 3.5 million, and his daughter attended a private school in Manhattan, where each year of her studies cost more than $ 40 thousand. Where was all this money coming from, an evidence of the corruptible nature of African leaders?
After showing disrespect to some African leaders without any intentions to step down, while under diplomatic pressure and the threat of a regional military intervention, Jammeh finally relinquishes his post to the successor, Adama Barrow, who was waiting for regional forces to secure security in the Gambia so that he could return.
Why many African leaders who have been in power for a long time wouldn't like to step down? Do they feel threatened or they think no one is capable of ruling the country better than them?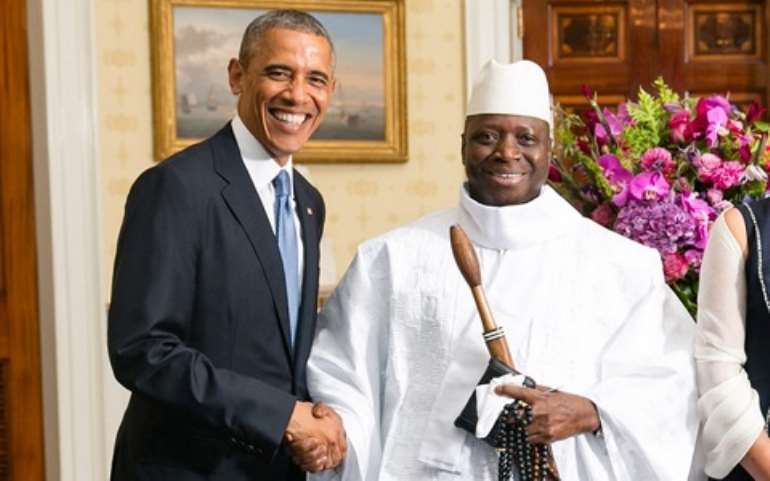 Former Gambian leader, Yahya Jammeh, at the White House with Obama
It happens that Teodoro Obiang Nguema Mbasogo, the Equatorial Guinea leader, who provided Jammeh a safe haven seized power from President Francisco Macias Nguema in 1979, thus; Obiang Nguema has been in power for 39 years.
Last year, in March, Yahya Jammeh made headlines again, with images of him working on a farm, imitating Olusegun Obasanjo, the retired former Nigerian leader who is now a successful farmer.
There is nothing special seen in African leaders that want to be in indefinite power than being a dictator or influenced by greed.
Yahya Jammeh was one of the noisiest African leaders, but now a humble farmer.
Would the stories of Jammeh and Mugabe change the mind of greedy Methuselah African leaders?
Paul Biya of Cameroun, who has also been in power since 1982, and Nguema can give the right answers.