The Spiritual Islamic Leaders Behind The Electricity Of Ghana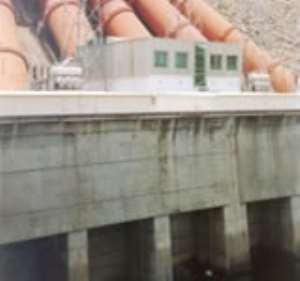 The spiritual leaders of lslam who played a major role in the successful and the development of our electricity of this country is Moulana Sheikh Alhaji Ibrahim Nyass rta and his beloved Hadimul(servant) Zaman Moulana Sheikh Mohammed Salisu Shaban rta, they really contributed immensely for the generation of Akosombo Dam to run successfully as we are seeing today.
This is when sheikh lbrahim nyass (R.T.A) of Senegal was invented by then, formal first President of Ghana, Dr Osagyfo Kwame Nkruma reliazed that during the construction of the Akosombo Dam there was a frequent breakdowns of Projects to progress as usual which needs a spiritual person to be involved,
So that such things will be quashed to have good and effective work to be done, So he invited the well renowned leader of lslam as well as Spiritual leader, Sheikh Alhaji Ibrahim Nyass (R.T.A) to assist this country to have electricity which will enhance productivity for the betterment of the economy,
which Moulana Sheikh Ibrahim Nyass (R.T.A) and his beloved Hadimul (servant) was given the task to do whatever they can to help this country to have the taste of electricity in the first sharan sub countries,
According to Sheikh Salisu Shaban who is the interpretater between the first formal President and his beloved Sheikh Ibrahim nyass rta, during the negotiations for the spiritual prayers to be offered, he was asked by Osagyfo Dr Kwame Nkruma that how do you get to know this Man and where do come from and he told him that am a Ghanaian but l was sent to him to study Arabic that's why l understand his language and Osagyfo told him that you did well by being with him study hard and become good asset to this nation as you assisted me to have good discussion with him, whatever you need, you can come to me, since then they became friends everything that the first President wants he will inform Sheikh Salisu to talk to hisGod father and he does it for Kwame Nkruma spiritually.
According to Sheikh Salisu Shaban who was then the interpretater between Dr Osagyfo Kwame Nkruma and Sheikh lslam Alhaji Ibrahim nyass rta submitted to us that Ghanaians should go back to history because we forgot so soon as people which is not good for us as a county, our leaders should take a critical look at what they do, don't base on what you are seeing today others has sacrifice for this nation and they need to be recommended and recognise as what they have done and also be awarded for their immense contribution for this nation such as him and others who did same for the country.