A Suspected Thief Is On The Run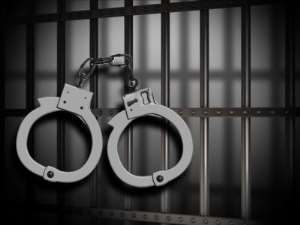 Nothing short of pure drama was witnessed in Koforidua, capital of the Eastern region this week, when a suspected iron rods thief managed to outwit and outsmart two police assistants who had earlier arrested him.
The suspect is believed to have stolen the iron rods from a building under construction in the Baakokrom Jehovah Witness (JW) residential area near Koforidua.
He was arrested together with the taxi driver whom he had contracted to convey the iron rods away, however, he managed to escape when he was being taken to the Koforidua Railways Police Station.
The Police assistants were prompted by a farmer who saw the suspect moving iron rods from the construction site to his house and has disguised them by painting the iron rods with different colours to divert the attention of residents.
A source at the Koforidua Railways Police Station explained that the Police are putting in measures, such as increased armed patrols in the area especially at night.
According to Mrs Gifty Agyemang, a resident of the Jehovah Witness residential area, the police have assured them that investigations are on-going to re-arrest the suspect
Mrs Agyemang appealed to the public to always cooperate with the police to protect lives and property.
---GNA