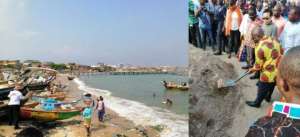 James Town in Accra is set to benefit from the construction of a USD60 Million Fishing Port Complex.
The facility is one of twelve others planned by Government for the coastal belt of the country.
It is being funded through a Chinese government grant and is geared towards revamping the fisheries sector to aid national development and promote tourism.
At a ceremony at James Town in Accra, an elated President Akufo-Addo said the project, which had been on the drawing board since 1965, was now becoming a reality under his administration.
"Today we are going to see something different...this harbour project will move from the drawing board to actual construction and it would bring a lot of jobs and trading activities to Jamestown and beyond," he said.
The President reiterated that his government was not looking at development from a political standpoint but was determined to develop all parts of Ghana, irrespective of the fact the area voted for him or not.
"What is going on here is one that meets the needs of people and not political interest," he stressed.
President Akufo-Addo thanked the Chinese government for funding the project, which he said, was "an act of solidarity with the people of Ghana."
He called on the James Town folks to give the Chinese working on the project the maximum support to enable them to complete the harbour on time.
The Chinese Ambassador to Ghana Shi Ting Wang said he would actively promote the progress of the project and strive for its early completion to enable the fishermen to benefit.
He said experts and technicians from China are exploring the hydrological and geological conditions of the port area, whilst further discussions have been with their Ghanaian counterparts on port dredging, hydraulic construction and support facilities.
The Ambassador further noted that Chinese companies were actively participating in the One District, One Factory' policy of government, adding that, this year, at least three Chinese investments enterprises had been inaugurated.
"The positive results of pragmatic cooperation between the two countries cannot be separated from the active leadership of the leaders of the two countries," he said.
The Jamestown Harbour project would involve the dredging of about 118, 000 cubic meters of harbour basin, construction of about 1,200 meters of hydraulic structures, production facilities, such as office buildings, trading markets, cold storage, processing and commercial area.
---GNA