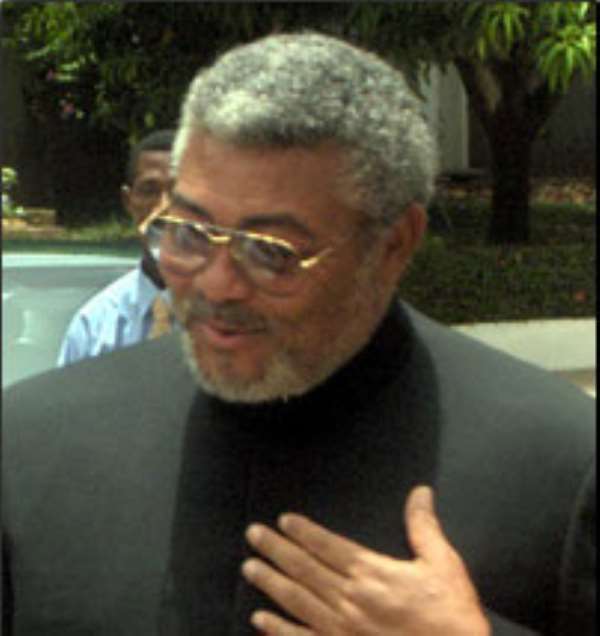 Former President Rawlings has repeated his claim that he has never smoked marijuana (wee) in his life, noting that it was the erstwhile Limann administration which deliberately created an image of him being a wee smoker.
According to him, the Limann government peddled lies that he was a wee smoker in order to discredit him, saying this gained currency among students, so those who saw him as a hero started smoking wee as well, just to identify themselves with him. Consequently, he had to visit as many schools as possible to disabuse the minds of students and to assure them that he was not a wee smoker in order to get them to stop smoking wee when he became Chairman of the 31st Revolution, the former President said.
Ex-President Rawlings, who is also the founder of the main opposition National Democratic Congress (NDC), was speaking to leading members of his party at the controversial "Founder Forum" called by the former President at the Kama Conference Centre, Accra on November 8, 2005. Responding to a text message sent personally to him on his cell phone by the embattled NDC National Women's Organiser, Ms Frances Asiam, on Saturday, November 5, former President Rawlings sought to assure his colleague party members that he was not a cold blooded killer as suggested by Ms Asiam in the text message.
Gye Nyame Concord gathered that Frances sent out the text to the secured line of the NDC Founder after an alleged orchestrated attempt by the former President to have her 'jacked' out of the Central Regional women's congress of the party. In her text message, the 47-year-old Ms Asiam dared the former president to continue orchestrating attacks on her and feel the burnt of her reprisals, suggesting that Rawlings was a vicious killer whose hands bore the blood of his human victims.
"Continue orchestrating attacks and campaigns of lies against me. My hands are not sullied by the blood of anyone. I am not haunted. You are wicked. God is on my defence and my protector. You can't kill or hurt me. You are a small, a mortal, not God. You lied on London call. Pray for forgiveness. More exposure if you don't stop your attacks on me. You can't get me out of this party, no way, or kill me," Miss Asiam noted in her text message.
In response, the former President, who this the Concord gathered called Frances back on his Caller-ID-withheld phone, told the NDC gathering that for all his life, particularly as a Head of State, apart from signing death sentences imposed on convicts by the courts, he has never killed anyone nor ordered anyone to kill another person.
He then praised Ms Asiam, noting that "although Frances is a good and firm organizer, she must be stopped in her tracks, from inflicting further damage to the party." He then blamed his Special Aide, Mr Victor Emmanuel Smith over an allegation he made which ruffled Ms Asiam and got her revealing certain dark secrets of the main opposition party. Rawlings further indicated that neither he nor his former National Security capo, Captain (Rtd) Kojo Tsikata of the PNDC fame, would be stupid to ask anyone to kill another one on their behalf, saying with Ghanaians' amazing faith in God, anyone they ordered to do such a thing would simply go into a church room afterwards and confess the killings.