African Health Ministers Must Go Back To School To Study About Biological Weapons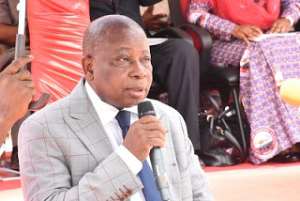 The need for appointed health officials, including Health Ministers in Africa, to go back to school and study about biological weapons is very necessary. The fact that African health officials lack the knowledge about biological weapons which have taken its toll on the African continent beyond remedy.
In the past and present health issues which have devastated Africa without any reaction from African leaders and health ministers, show that either African leaders and health ministers lack the knowledge about biological weapons or the manifestation of corruption is taking place to fill their pockets.
The 'Wikipedia,' defines a health minister as: "A member of a country's government typically responsible for protecting and promoting public health and providing welfare and other social security services."
The health minister is responsible for overall policy formulation, planning, organization and coordination of the health sector at the national, regional, district and community levels. Thus, if an African health minister is performing his duty well, he or she should have known that Ebola is a biological weapon after Aids, therefore, we must do something about it.
Many European scientists and some doctors, such as the German medical doctor, Wolff Geisler, has identified diseases such as Burkitt's lymphoma, the Nile plague, and Nodding disease as biological weapons against Africa, therefore, what kind of medical course did African health ministers did at school?
From 1945 to 1962, Robert J. Lukes diagnosed Burkitt's lymphoma in a very large number of dogs in the Armed Forces Institute of Pathology in the United States of America. In the majority of the cases, the same issue changes, as occurred in Burkitt's lymphoma in human beings set in.
This is enough evidence that the disease Burkitt's lymphoma was tested in animals first before it was used as a biological weapon on Africans. So what's the significance of African health ministers who can't even recognize a man-made disease apart from malaria caused by mosquitoes?
The disease Nodding Syndrome (NS) is a neurological disorder of "unknown" etiology and pathogenesis, reported occurring mainly in the Western Equatoria State in South Sudan, in several districts in Northern Uganda, and in Mahenge district in Tanzania.
"Unknown or strange disease," that is what false scientists and health officials that support the US government's clandestine project of global depopulation call it. But investigation and research by the German doctor, Wolff Geisler, who had been to many African countries revealed it was a biological weapon from both the UK and American governments.
When Kim Jong Nam, the half-brother of North Korea leader, Kim Jong Un, succumbed to the nerve gas attack. As soon as the Dutch scientist, Johan Van Dongen, read the way he died, he immediately, contacted me to write the article, mentioning the name of the type of nerve gas which killed Nam, even before the Malaysian authorities investigated and found out exactly as the same nerve, "VX (O-ethyl-S- (2- (di-isopropylamino) ethyl) ester of methylfosfonothioine acid), which killed Kim Jong Nam.
Reference:
KIM JONG NAM'S DEATH DEMONSTRATES HOW BIO-WEAPON KILLS
This is the kind of intelligence Africa needs or African health ministers must show. If they are not capable of identifying biological weapons, then, I will advice them to go back to school and stop enjoying taxpayers' money.
They should resign so that their posts will be filled with qualified health officials.