Paul Dogbe Predicts Knockout Win For Isaac Dogbe Ahead Of Navarrete Bout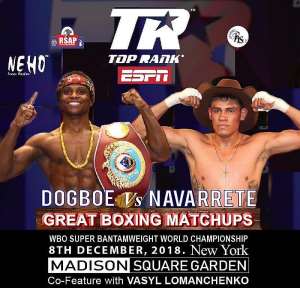 Father and Trainer of Isaac "The Royal Storm" Dogbe is predicting a knockout win for his son ahead of his World Boxing Organization (WBO) Bantamweight title defense against Mexican boxer Emmanuel Navarrete.
The Ghanaian enters this bout with a record of "20-0, 14 Ko's" as he looks forward to successfully defending his world title. The challenger Navarrete, on the other hand, is being backed by "(25-1, 22Ko's" as the highly anticipated bout approaches.
For Paul Dogbe, his son is equally up to the task ahead and will endure the threat of the Mexican to win the bout. He has thus stated that Dogbe will dissect his opponent before eventually knocking him out.
"Isaac Royal Storm Dogbe the lion of Africa becoming the first paper view mega superstar ever to come out of Africa. 8th December Isaac Dogbe is up against another to Mexican cracker Emmanuel Navarrete.
"How do we dissect Navarrette? It's not going to be easy because remember he is going to come like a mad lion trying to take Isaac out and trying to take the title from Isaac.
"But it's not going to be easy. We are going to dissect Navarrete and then we are going to knock him out. We will hold the bull by the balls then we will bring him down", Paul Dogbe shared in a post shared on social media.
In his first title defense Dogbe had to overcome Japanese boxer Hidenori Otake. This was after he had beaten Jessie Magdaleno earlier in the year to become the WBO Bantamweight champion.
The bout has been slated for December 8 and will happen in the United States of America (USA) at the Madison Square Garden.