Ghana Opts For HIV Self-Testing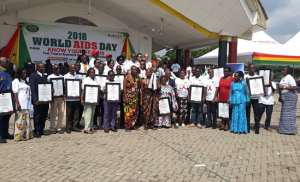 As a giant step to broaden awareness on HIV/AIDS, the President of the republic, Nana Akufo-Addo has recommended HIV Self-Testing in order to treat and stop the spread of infections.
With about 65 per cent of people living with HIV in Ghana as at the end of 2017 knowing their status, Ghana's government has been compelled to make self-testing available to many Ghanaians as possible to know their HIV status.
President Akufo-Addo, in a speech read on his behalf at the commemoration of the 2018 Worlds AIDS Day in Ho, themed 'Test, Treat To Suppress & Stop New HIV Infections', explained that getting tested to know one's status is critical in reducing the risk of new infections.
He said the country was considering putting in place systems to undertake self-testing in order to allow individuals to check their HIV status themselves.
President Akufo-Addo was hopeful that should the Ghana AIDS Commission (GAC) obtain approval for the policy, it would offer stigma-free testing opportunities, especially for first time testers and underserved populations to know their HIV status.
Citing the findings of 2017 National HIV and AIDS Estimates put out by the GAC, President Akufo-Addo expressed worry that more than a quarter of Ghanaians living with HIV still do not know their status.
He expressed his commitment to lead Ghana to eradicate AIDS by 2030, just as stipulated by the global target express worry over the rate of new infections among the youth describing it as "harrowing."
The president, therefore, called on all, particularly the GAC, ministries, departments and agencies (MDAs), particularly Health, Education, Gender Children & Social Protections, local and international NGOs and development partners to join hands in reaching the 90-90-90 target by 2020 and AIDS eradication by 2030.
The Country Director for UNAIDS, Angela Trenton-Mbonde, indicated that despite the many gains chalked since the last 30 years when World AIDS Day was instituted, they still have stigma and discrimination as the greatest challenge.
"Many died because of stigma and discrimination. Stigma and discrimination prevented them from living and accessing life-saving services," she revealed.
The Chief Executive Officer (CEO) of Standard Bank Africa, Shola David Borha, said the bank directs donation of $2million and another $2million from staff across its branches in Africa.
He said since a "healthy community is a productive community… There's no need for complacency. It is the responsibility of us all to ensure tomorrow's generation if free from HIV and AIDS."
Christopher Lamora, Chargé d'Affaires at the US Embassy in Ghana, maintained that his country is still committed in ending HIV in the world despite committing millions of funds through the President's Emergency Plan for AIDS Relief (PEPFAR) for the last 10 years in Ghana and 15 years globally.
Mr. Kyeremeh Atuahene, Acting Director General, GAC, assured all that his outfit would lead in reviving the HIV and AIDS campaign in order to meet the country's target by 2030.
---Daily Guide