Bawumia Identifies Corruption As A Threat To 'Ghana Beyond Aid'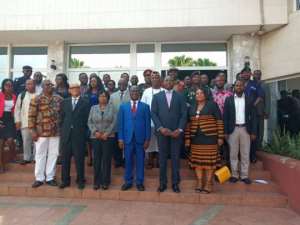 The issue of corruption threatens 'The Ghana Beyond Aid' agenda, a brilliant panacea to the economic development of the country.
The Vice President, Dr. Mahamudu Bawumia, who made this observation said the 'Ghana Beyond Aid' and President Nana Addo Dankwa Akufo-Addo's Coordinated Programme of Economic and Social Development Policies (2017-2024) will suffer if corruption is not tackled.
This was contained in a speech read on his behalf in Accra on Monday, at the launch of the 2018 Anti-Corruption and Transparency (ACT) Week Celebration.
He said the Government had therefore instituted reforms to eliminate waste and seal opportunities for corruption in the country.
He said the reforms include digitisation of processes at the Ports for clearing goods, introduction of online passport application forms and implementation of transparent allocation of oil blocks to investors.
'Government is strengthening anti-corruption institutions to enable them address corruption, promote probity, accountability and transparency by providing them (with) more resources.'
The ACT week is on the theme 'Winning the Fight Against Corruption - A Panacea for Ghana Beyond Aid'.
Vice President Bawumia, whose speech was read on his behalf by Professor George Gyan-Baffour, Minister of Planning, said government had allocated more resources to the Commission on Human Rights and Administrative Justice (CHRAJ) for the implementation of NACAP.
He said the Government was also reconstructing a modern office block for CHRAJ to replace the old offices, which was destroyed in a fire outbreak in 2013.
Other anti-corruption measures embarked on by the government he said, was that the Office of the Special Prosecutor (OSP) was receiving the needed attention.
He added that GH¢180million was at the disposal of the OSP in the 2019 Budget and efforts were currently ongoing to adopt the necessary supporting legislation to enable it take-off.
Dr Bawumia said the Ghana Police Service was also being provided with the necessary logistics and personnel, whilst the Economic and Organised Crime Office (EOCO), the Auditor-General's Department, and others had also received due attention.
'Government is also enforcing the Public Procurement Laws to ensure value for money and to curtail sole sourcing, an avenue for corruption,' the Vice President said.
'I am glad that these measures have resulted in significant savings of GHC1.8 billion from January 2017 to October 2018, to the state,' the Vice President said.
Mr Joseph Whittal, CHRAJ Commissioner, said insufficient funding is threatening the successful implementation of NACAP.
Mr Whittal posed the question: 'Can we as (government; ministries, departments, agencies; metropolitan, municipal and district assemblies; civil society organisations; faith-based organisations, media and the public confirm that we have done what the NACAP expects us to do in the last four years of implementation?
He noted that, he could only say, based on the information available to him that not many partners/agencies had shown interest in the implementation of NACAP and that insufficient funding for the implementation of NACAP remains a threat to its success.
'The corrupt, like every criminal mind, also change their modus operandi almost every time. Today it is 'daylight' stealing of public resources either through procurement or sheer abuse of public power or office, often accompanied by extreme nationalisations of such theft.
'The next day it is '419' or other innocuous ways of thievery such as quiet corruption,' Mr Whittal said.
'The cost of these acts of corruption can be devastating and constant assessment of our strategies to confront corruption is not necessary but critical,' he said.
Ghana in 2014 adopted NACAP as a blue print for the fight against corruption, whilst its implementation, which commenced in 2015, is expected to contextualise and mobilise efforts and resources of stakeholders to prevent and fight corruption through the promotion of high ethics and integrity as well as vigorous enforcement of applicable laws.
The NACAP aims to institutionalise efficiency, accountability and transparency in the public, private and not-for profit sectors as well as conduct effective investigations and prosecution of corrupt conduct.
It also focuses on causes, effects and measures to control corruption and outline measures for strengthening key anti-corruption and law enforcement agencies as well as improving investigation and prosecution.
The main purpose of the ACT Week is to promote effective implementation of NACAP, sustain the campaign against corruption, and generally enhance integrity in the country.
---GNA