DKT, AIDS Commission Mark World AIDS Day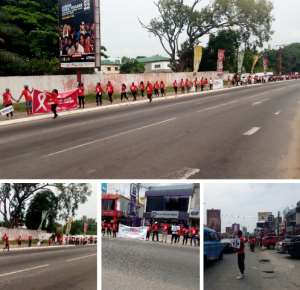 This year's celebration of the World AIDS Day on 1st December was characterized by various events across the country.
It is in this direction that DKT International Ghana, a non profit social marketing organisation and the Greater Accra Technical Support Unit of the Ghana AIDS Commission (GAC) have emabrked on a massive public sensitisation programme on the spread of the infection and its prevention method.
The event drew together volunteers from all walks of life including network of persons living with HIV, students, Greater Accra Regional Coordinating Council, among others.
They created awareness of the disease and encouraged everyone to adopt preventive habits or live positively if already infected.
The campaign was held along some principal streets in Accra on Saturday, December 01 with distribution of condoms by volunteers as well as free HIV test screening for the public.
Mr Mario E. Flores Alvarez, DKT's Country Director said his outfit was happy to receive support from its two condom brands; Kiss and Fiesta to undertake the campaign, adding that, they hoped to intensify the campaign in the near future, sensitize the public to HIV and encourage all to adopt preventive habits or live positively if already infected.
'DKT believes that knowing your status is key to a healthy life. In the near future, DKT will expand activities in prevention and testing, to support the national effort of stopping new HIV infections," he said.
Mrs Rita Afriyie, Coordinator for Greater Accra Technical Support Unit of GAC, said the campaign was important for the Greater Accra Region in its part to help Ghana reach its 2020 United Nations (UN) target for the disease.
"Ghana has been given a target by the UN to ensure that by 2020, we are able to identify person leaving with HIV and do not know their status. We are to identify such people, put them on treatment and ensure that their viral load is suppressed," she said.
She said before the country could achieve the target dubbed '90 90 90 fast track target', the country needed to ensure that people knew their status to be able to make informed choices as to how to behave within their society.
She said Greater Accra at the moment had an estimated number of 73,556 living with HIV, and an HIV prevalence rate of 2.1 per cent.
She added that, this year's World Aids Day under the theme "Know Your Status," marked the 30th anniversary since the celebration started, adding that, Ghana had adopted a sub theme; " test, treat to suppress and stop new HIV infection."
She advised the public against stigmatizing people with HIV, adding that, "so we want to break that barrier and ensure that we promote condom use as well".
The 1st of December has been set aside every year to be marked as World AIDS Day (WAD). The day gives people around the world the opportunity to unite in response to the HIV and AIDS epidemic. It also provides an occasion for people to asses efforts made at managing the epidemic, show their support for persons living with and affected by HIV and remember people who have died from AIDS or AIDS-related causes.
---GNA