Accra Traders Pray For 'Bumper' Christmas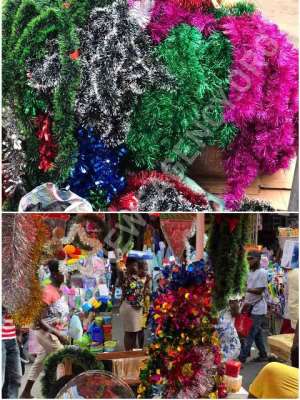 Traders in the Central Business District of Accra have said they are yet to see the characteristic booming trade ahead of Christmas, but are hopeful to register good sales before the end of the season.
Some, however, say they have started making some good money so it could only get better.
This came to light when a Ghana News Agency team interacted with a cross-section of the traders to find out how sales were progressing, and which items were trending ahead of the season.
In anticipation of increased sales during the season, many have fully stocked their shops with clothing, toys, biscuits, children clothes and Christmas decor.
Madam Regina Mensah, a trader in Christmas-related items at the Makola Market, said sales had not been encouraging over the past three years, though last year's was better than the previous year's.
'Last year, customers started trooping in from November, buying decorative items, Christmas trees and hats; but things are not the same this year,' she said.
'They keep coming to ask for the prices but they leave without buying them. We hope things will change with the start of December but for now it's just terrible'.
Mrs Alberta Adjeley, another trader said:' The street of Makola should have been flooded or choked with customers in the month of November, but here we sit on an empty street'.
She, however, said business might be good in the coming days so she would keep her fingers crossed.
Mr Richard Fosu, a wholesale dealer in hair extensions and wig caps also said things were not moving like it did last year, and attributed it to price increment.
'Last year by this time, I was serving customers in queues but now it's very slow, with the shop being nearly empty most of the time.
Ms Joan Akofah, a trader in soft drinks and beverages, said she was praying for the coming weeks to bring good tidings.
However, Madam Abena Safo who sells shoes and toys, said, 'I am making money because parents are buying the toys for their children. I'm, however, expecting more from the customers since there are few weeks more to the Christmas.
Madam Alice Appiah who sells soft drinks, also said: 'Business is good for me today, people are buying the soft drinks and I am sure more would be bought in the coming days.'
She said giving discounts to customers, like is done elsewhere during such festivities would promote sales, adding that it was unfortunate some traders instead hiked their prices.
Through the years, GNA's Christmas Business Surveys have seen a trend where traders complain about having experienced better sales in the preceding years than the existing one.
However, generally, traders, especially those who deal in fabrics, clothing, shoes, drinks and confectionery witness a boost in patronage during the Christmas and New Year seasons.
Source: GNA