NDC Constituency Executives To Pay Bagbin's Filing Fees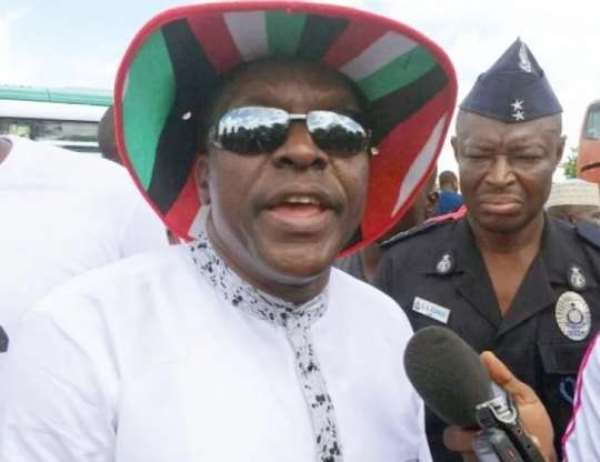 A group of Regional and Constituency Executives of the Opposition National Democratic Congress (NDC) have indicated their readiness to support Second Deputy Speaker of Parliament, Mr Alban Bagbin to pay for his forms and filing fees.
Their expression is in reaction to Mr Bagbin's complaints about the "unacceptable" high filing fees for the Flagbearership of the NDC
'As we speak right now, we have started a process of channeling contributions to a special purpose account for Mr Bagbin and I am pleased to announce to you that money has started trickling in… we call on Mr Bagbin not to give up' Mrs. Gladys Kudor, Deputy Eastern regional Women's Organizer, told a News conference in Accra on Saturday.
Mrs. Kudor, a leading supporter of Mr Bagbin, shared the high table of the conference with like-minded Wisdom Kukubor, Executive Member in Ketu South, Samuel Oppong, Dormaa West Constituency Youth Organizer, and Amarh Evans, of Greater Accra NDC.
According to her, the unprecedented huge filing fee quotation was deliberately coined by the NEC of the NDC to eliminate some candidates by rough tactics.
'We wish to ask the NEC members, 'how much did you pay to file for your nominations?' if you paid GH¢5,000 to file your nominations, why are you quoting almost half a billion old cedis for Flagbearer aspirants? Mrs. Kudor asked rhetorically.
She told the conference that what the NDC NEC had done was a confirmation about complaints of the party Founder that the NDC had become a money making machine for some people.
'We wish to add our voices to those of all discerning Ghanaians calling for a review of this outrageous filing fee, and also urge our beloved party's Council of Elders to step in and stop this injustice. But if all appeals fail, we wish to make it clear, that we the party executives in support of Bagbin have a plan B, and it is already in motion.'
She called on Mr Bagbin to dismiss any temptation of giving up saying he will win the Flagbearership come the 19th January. 'We also urge all lovers, friends and supporters of Mr Bagbin to come on board and contribute generously towards raising this filing fee. We shall overcome!' Mrs. Kudor said.
Mr Samuel Oppong, the Constituency Youth Organizer for Dormaa West, in the Brong Ahafo region, who was one of the news conference conveners, later explained why they were motivated to support Mr Bagbin.
'Of all of the people contesting for the 2020 Presidential ticket, the one most richly qualified is Mr Bagbin. This is a political science titan who consults for political parties across the globe."
He pointed out that because of his outstanding intellect, the Nadowli Kaleo MP was named the Exclusive Man of The Year award for 2017. The current Second Deputy Speaker of
Parliament has also received Global Centre for Transformational Leadership award, and the National Association of Nurses, Ghana award.
Evans Amarh, the Tema East Constituency Deputy Organizer said Mr Bagbin, who has also chaired Standing Orders Committee and the 2005 and 2010 National Delegates Congresses of the NDC was not consulted.
'We know what NEC is doing…The same was our national executive elections at Trade Fair. We Bagbin's supporters across the country are many and will conquer obstacles for him to win massively 'Mr. Amarh said.
Source: GNA