Turkish Business Delegation In Ghana to Boost Trade and Investment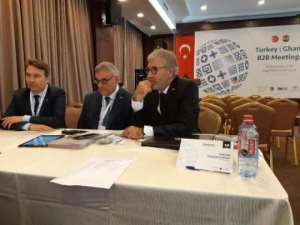 A highly powered business delegation from Turkey is in Ghana to further explore business opportunities and boost bilateral trade between the two countries.
The delegation made up of about 30 companies dealing in electronic and electrical goods, showcased advanced Turkish goods, including electronics, cables, lighting and security equipment, electrical production and distribution equipment.
The three-day visit, which was organised by the Turkish Electrical and Electronics Exporters Association (TET) is facilitated by Firmus Advisory, a Ghanaian owned business consulting firm, with support from the Ghana Investment Promotion Centre (GIPC) and Ghana Chamber of Commerce and Industry (GCCI).
Ghana and Turkey signed a five-year agreement on bilateral air services, health and medical sciences, military training and science.
The two countries abolished visas for holders of diplomatic passports, and signed a Memorandum of Understanding for the establishment of consultations on political mechanism.
Relations between Ghana and Turkey reached its climax when the President of Turkey, Abdullah Gui, led a 150-member business delegation to Ghana in 2016, to hold a business seminar and a business-to-business meetings for the private sector.
Mr Atilla Eren, Treasurer of TET said the companies were in Africa, especially, Ghana to meet with their business counterparts.
He said it was a platform where Ghana and Turkish businessmen would meet to interact and build reliable business partnership and expressed the hope that the visit would generate interest among both countries.
Mr Edward Ashong-Lartey, the Director of Investor Services at the GIPC said, the visit follow's the renewed commitment between Ghana and Turkey to boost bilateral trade and called for more collaborations between Ghana and many other countries to boost trade and investment.
Turkish investments in Ghana currently amount to around $516 million while trade volumes reached $353 million 2017.
---GNA