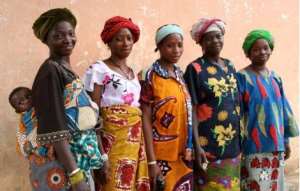 File Photo
What is this mystery call a woman? Who is she? What has she done to become the epicenter of satanic focus? Woman. I call her a man with a womb, symbolizing an emblem of re-production and replenishment. Who is this specie of human strata that can turn foods stuff into a delicious mean, turn a sperm into a baby and multiply any amount of money you give her to ensure that it takes care of the home and even if its not enough she won't complain, eeiiii Woman!Hmmm, strange creation. If you give her love you will enjoy her true submission and if you give her hell you may not leave long enough to tell your story. Woman! A man raped her, she reports and the police believed it, she rapes a man, the man reports and the police says it's a lie. What really makes these species call women? Ahh Well. Let's proceed.
If this gift call woman is this interesting why then does she manifest more at our deliverance meetings at church than men? Why does she hold her tears and be dying inside when she marries an unfaithful man whose character is just to follow visionless under seventeen girls like a sheep led to the slaughter? When we are looking for babies we look for them in the womb of a woman and when we are looking for fibroid we look for them in the womb of a woman. Who is this mystery call a woman and why is she under consistent satanic radar? Her marriage is under attack and she is the only person worried and the man is still roaming heartless and the woman is hurting, why? Why does every ungodly boss want to sleep with her before giving her a job? What has she done to deserve all these ignominies? The child is a vagabond and the man still eats three times a day whiles the woman fast and pray three times a day for the child. Why is she the one feeling the pain? Her husband is seriously cheating and instead of retaliating with the same act, she goes on her knees and cry to God and say '' Lord, change my husband''. Why this pain? She failed an exams and went to see the lecturer for pardon and the lecturer said she has to pay with her priceless virginity and she goes back broken. Woman! WHY YOU? WHAT HAVE YOU DONE WRONG? Follow me, I will tell you.
The prophecy in the garden of Eden according to Genesis chapter three verses fifteen was "You and this WOMAN will hate each other; your DESCENDANTS and HERS will always be enemies. One of HERS will strike you on the head, and you will strike him on the heel."
Woman, this is not good news but I must be very candid with you: there is warfare over your life right from the garden of Eden and that is the more reason why you need to build an alter of prayer for yourself consistently. Program days for fasting and prayer to engage God to end this cycle of nuisance over your destiny. As powerful as Jesus is he didn't fall from a tree. Moses as powerful as he was he didn't fall from the skies he also came through the womb of a woman. Samuel as terrible as he is, he never came from the ground. He came through the womb of a woman. Question: So, if you will keep giving birth to great destinies who will destroy the kingdom of the devil, why won't Satan make you barren and cause your marriage to delay? Why won't Satan plant ovarian cyst, fibroid and all sort of funny demons in your womb? This is the war over your life, my sister and my mother. Mama it has nothing to do with your job or your car but it has everything to do with your seed, destiny.
That is why Satan will keep you in the kitchen because he knows the day you step into the university to read a course on business management you can become the best CEO and bail your family out of poverty. The man is 40 years and no family member is pressuring him to marry but you are only 30 years and friends and family starts asking you whether there is a curse on you, why are you not marrying? And if you don't have the spiritual arsenals to combat this negative words in your life. It will destroy you at the end. Satan knows when you step into the ministry the genuineness of your heart will shutter hell so he plants bitterness and unnecessary envy in you against God's kingdom and ministers to keep you away. Why? Because in the realm of the spirit a woman is not a gender, a woman represents a gate.
Woman! Arise. It is not only men who prays for twelve (12) hours, a woman can do that too. Moses fasted for forty days and night, Hannah fasted too. Apostle Paul at a point in time was assisted by Lydia. Anna the prophetess prayed Jesus to manifestation. So why not you my sister? Please you can do same. This missive is to provoke you to rise up with tears but in prayer. If the bible calls you our help meet then we must move together. ARISE! ARISE!! ARISE!!!
GOD BLESS ALL WOMEN ACROSS THE WORLD AS YOU JOIN IN THE ENDTIME REVIVAL.
R. Duafah