MTN Ghana Foundation's 11 Solid Years Of Impactful Corporate Social Investment In Ghana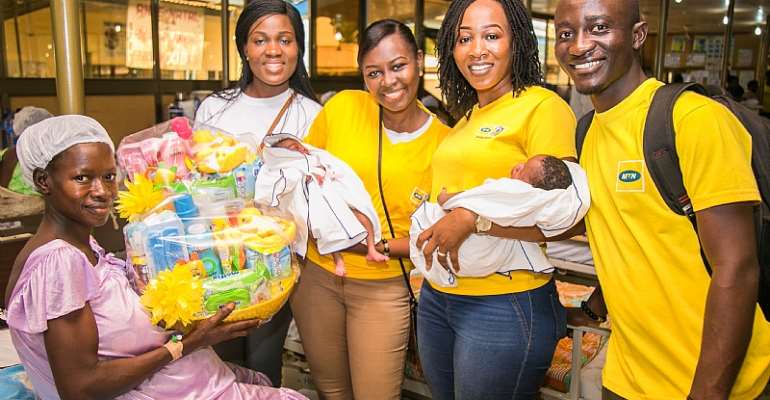 MTN Ghana Foundation the Corporate Social Investment wing of MTN Ghana is commemorating 11 years of impacting over 4 million people across Ghana.
Launched on 24th November 2007, the MTN Ghana Foundation was established with a mission to improve the quality of lives of people through appropriate and sustainable corporate social responsibility interventions in communities where MTN operates.
In the space of 11 years, the Foundation has implemented over 142 major projects in its focus areas of Health, Education and Economic Empowerment in communities in all ten regions of Ghana. In all, the MTN Ghana Foundation has instituted 80 educational projects, 52 health projects and 10 economic empowerment projects at a total cost of GHc32 Million.
This year alone, the MTN Ghana Foundation has embarked on a series of projects that have improved livelihoods and made lives a lot brighter. In February, through its annual Save a Life Blood Donation Exercise, over 3200 pints of blood was collected and shared with regional hospitals and the National Blood Services. The Foundation also commissioned a 40 bed maternity block for the Tema General Hospital which has aided in decongesting the maternity unit of the hospital. Over the years one thousand students have being offered scholarships. This year, MTN Foundation offered scholarships to 100 tertiary students under its MTN's Bright Scholarship Scheme. Many lives have been touched through the provision of medical facilities as well as educational opportunities.
As part of activities to commemorate the 11th Anniversary, MTN Ghana Foundation will commission an ultra-modern library and ICT Center for New Juaben SHS, donate 100 computers to Takoradi Technical University in support of an E-Library project and distribute Science Sets to 14 basic schools across the country.
In addition, apps and software created during the period under MTN's sponsorship of Ghana Multi Media Incubator Centre will be showcased.
Commenting on the anniversary, the Corporate Services Executive of MTN Ghana, Mr. Samuel Koranteng, said, "I would like to express our gratitude to MTN customers, partners and stakeholders for their continuous support over the years."
"We are glad that apart from connecting people through innovative telecommunications solutions, we are also able to brighten lives through impactful Corporate Social Investments. As we celebrate our 11th anniversary, we pledge our commitment to our goal of giving back to our communities," he added.
The MTN Ghana Foundation has been recognized by many organizations for its contributions to sustainable and impactful projects across Ghana. The work of the MTN Ghana Foundation has been recognized through several including among other the overall CSR Company of the Year 2018, 2016 and 2015 by Ghana CSR Excellence Awards (GHACEA), Highest Corporate Blood Donor in 2013 and the Corporate Philanthropist of the Year 2017 at the National Philanthropy Excellence Awards. MTN Heroes of Change was adjudged 2016 IPR Best Community Relations Programme of the Year and CSR Program of the Year 2015 by the Head of State Awards (HoSA) Scheme
The Foundation was also honored by Rotary Foundation of Rotary International for its contribution to the fight against polio in Ghana in 2016.
About The MTN Foundation:
The MTN Ghana Foundation was established in November 2007 as the vehicle to select and implement MTN's Corporate Social Investments. MTN Ghana Foundation has three areas of focus -Health, Education and Economic Empowerment. From inception to December 2017, the Foundation had undertaken 142 major projects across the country. Notable health projects include: construction of a Neonatal Care Center for Tamale Teaching Hospital, refurbishment of the 2nd floor maternity block of the Korle Bu Teaching Hospital, construction of a maternity block for Ejisu Government Hospital, and construction of an Emergency Center for Atua Government Hospital. Education projects undertaken include: construction of a boys dormitory for Akropong School for the Blind, construction of a six-unit classroom block for Kodjonya Millennium School, establishment of 10 MTN ICT Learning Centers in each of Ghana's 10 regions and the institution of an Innovation Hub at KNUST to promote Telecoms Engineering and Research. Key projects undertaken in Economic Empowerment include: the construction of shea butter processing centers, provision of seed capital and skill training for Women of Tizaa Dini Association of Yendi and the Sung Suma Women Association of Wa.