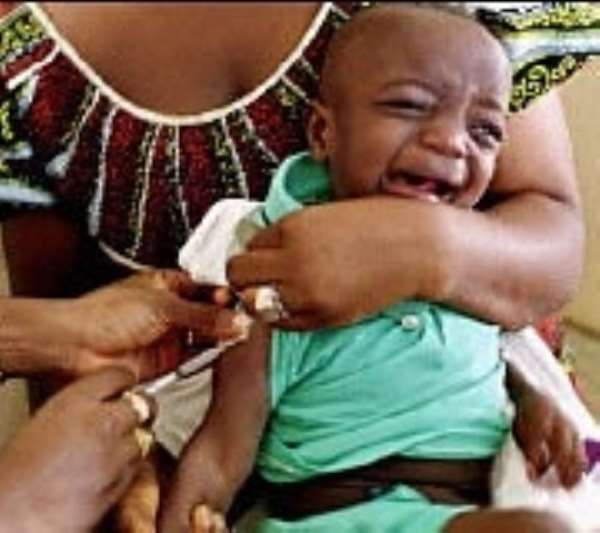 Accra, Nov 12, GNA- A total amount of 4.9 million dollars is being spent on the phase two of this year's polio immunisation exercise, which started on Friday.
Out of the amount, 2.5 million dollars was used to purchase the vaccines, while 2.4 million is being spent on the immunisation operations, Dr Kwadwo Antwi-Agyei, Programme Manager of Expanded Immunisation Programme of Ghana Health Service, told the GNA in an interview.
Phase two of the National Immunization Days (NIDs) programme, consists of two rounds, with the first round schedule for November 11 to November 13 and the second for December 9 to December 11. According to Dr. Antwi-Agyei, about 5.5 million children aged 0-5 years would be covered under the programme from house-to-house, market centres, schools, churches and lorry parks in all the 138 districts capitals of Ghana.
He said all 50,000 volunteers and 4,500 supervisors recruited for the exercises under the theme: "Make Ghana a Nation Without Polio" were participating to ensure that set the target was achieved. The exercise is supported by the Governments of Ghana and Japan; Ghana Health Service, World Health Organisation (WHO), UNICEF, Polio Plus Committee, Centre for Disease Control and USAID. Dr Antwi-Agyei expressed the hope that the success of the on-going exercise would help Ghana attain her polio free status as a nation by 2006.
"We have to get a good coverage as in the first phase of the programme this year where 5.7 million children representing 104 per cent were immunised. We also have to maintain the routine until we rid the country off polio."
He said through the interventions of WHO, all the 16 countries of West Africa have agreed and were immunising children around the same period.
He noted that each country was collaborating with one another at border posts to ensure that every child was immunised to avoid importation of poliomyelitis into another country.
The Polio germ paralyses children for life and can kill in some cases. Between 10 doses and 15 doses are needed to protect children fully against polio for life.
Ms. Alexandrina Addo, Nursing Officer in-charge of Reproduction and Child Health, Mamprobi Polyclinic told GNA during a visit to the Clinic on Saturday that 124,994 children are targeted to be immunised within the Ablekuma sub-metro, comprising Korle-Gonno, Mamprobi and Dansoman zones.
She said in addition to the polio vaccine, vitamin A vaccine was also being given to the children to provide them with micronutrient that help improve their immune system.
She told GNA that with the house-to-house programme, greater achievement would be made since response had from field trip was very encouraging. Ms Addo said churches would be visited on Sunday to immunise children who did not have the indelible mark on their baby-finger, a sign denoting that they have not been immunised. 12 Nov, 05