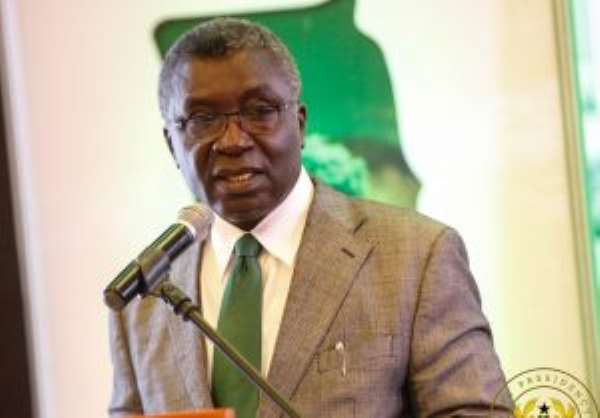 The government will from Monday, November 26, begin vetting of all small-scale miners and their documents. This is to ensure that all small-scale mining activities in the country are done in a responsible, environmentally-friendly and sustainable manner.
In December 2017, President Akufo-Addo announced the vetting in a bid to eliminate illegal small-scale mining in the country.
Subsequently, an Inter-Ministerial Committee on Illegal Mining (IMCIM) was inaugurated to achieve the long-term objectives of combating illegal small-scale mining, protecting the environment, and ensuring that mining in the country conforms to international standards, rules and regulations.
The vetting process, which is being spearheaded by the Inter-Ministerial Committee on illegal mining will be held within a two-week period from Monday, November 26, 2018, to December 7, 2018.
Prof. Frimpong Boateng who is the Chairman of the Committee at a press conference in Accra in August said the finalization of the vetting process would inform the government's timeline for the lifting the ban on small-scale mining.
"If the vetting goes on well then we will know when exactly the ban will be lifted," he said.

Gov't to lift the ban on small-scale mining by December
The government has already hinted that it may lift the ban on all forms of small-scale mining by the end of 2018.
The government was compelled to issue the ban in 2017, at the time illegal mining was destroying the county's land and water resources.
Analysts warned that Ghana might resort to the importation of clean water in the next two decades if the threat was not eradicated.
Professor Frimpong Boateng, Chairman of the Inter-ministerial Task-force Against Illegal Mining, was optimistic that small-scale miners would be able to return to work by December.
Gov't launches new software to fight galamsey
The inter-ministerial task-force on Galamsey has however adopted what it calls technology-driven strategies to combat illegal mining.
Key among the technologies is a software called Galamstop, which will monitor the activities of illegal miners.
Professor Kwabena Frimpong Boateng said the team hopes the innovations will culminate in the eventual lifting of the ban
"These are things that have been pledged at this conference in the fight against illegal mining. The integration of activities of these regulatory agencies through a computer application we call Galamstop. The Minerals Commission, EPA, Water Resources Commission, Forestry Commission, our current DCEs will be integrated through this software application."
Source: citinewsroom.com | Ghana