Academic Corruption In The Universities In Ghana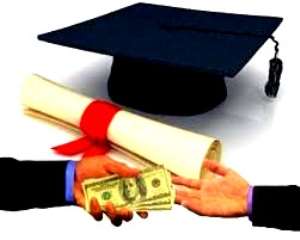 File Photo
Whenever we speak of corruption, our eyes usually focus on politicians, civil servants, private entrepreneurs in the banking sector and a few other areas of the public sector. We hardly think of the corruption that goes on in the academic sector. Presently, Ghana as a nation is struggling to deal with corruption in all spheres, including corruption in the judicial sector. There is hope that sooner or later these corrupt practices that nearly drown our country will be put to absolute check, which means that the people of Ghana will learn to adhere to those right principles which will make our country governable.
In the university systems and more importantly in the academic sector, corruption reveals its head when those authorities given the power to steer this organization relax in their rules that have been promulgated to govern the institutions involved. These institutions then become their own masters and, as a result, disregard the good principles which are supposed to bring order, legitimacy, and equity or fairness into the manner these institutions behave.
A specific example is the manner freshman intake goes on in the various institutions founded by the state. Whiles institutions abroad follow the principle of accepting students with the intention of matching the resources they have as well as taking into consideration the student-lecturer ratio, universities in Ghana disregard these laws and go on to admit as many as 17, 000 -20, 000 each year (more than 30-40% of those who applied for admissions) with limited resources such as competent lecturers to teach these students. No wonder university students frequently go on strike or engage in "demonstrations" because they do not do any serious work while in their campuses.
Many serious academicians think now that we should appeal to the President of the country, that is, His Excellency Nana Addo-Dankwah and his Minister of Education, so that good laws restricting the Public Universities to admit only certain percentages which conform to the international standard must be promulgated as soon as possible. If he does not intervene as soon as possible concerning these control exercises, the rankings of the universities in Ghana at abroad will be affected next year when they are being reviewed. We are aware that this indicator is taken seriously by the international community when performing their rankings of the universities around in the world. Also, if possible, the private universities as well as the public universities each must be given the opportunity to have 2500 students as base admissions before any additional intake could be done by the so called public universities in the country.
A recent law which was passed in Nigeria, our neighboring country, could probably be also passed in Ghana. By this, each university is restricted to expand ONLY in the CITY or TOWN where it is located, which means that University of Education, Winneba and KNUST could not, for example, be permitted to move away from their cities of domicile to build extension campuses in order to attract more students, that is, Winneba and Kumasi respectively. As the National Accreditation Board in Ghana is ready to play its role effectively as overseer, the GOVERNMENT of Ghana should step in also to regulate this situation which is causing some thriving private institutions in the country to wind up.
Those big and extended campuses of these public universities could also be given autonomy in order to operate as independent universities of their own. We expect that sooner or later the national policy of education should incorporate and stress the importance of science education in Ghana. An important legacy of President Eisenhower of the United States of American which spearheaded the USA into limelight as the most scientific nation in the Western Hemisphere.
Professor Desmond Ayim-Aboagye
(DEAN OF FACULTY OF ARTS AND SCIENCES)
Regent University College of Science and Technology
P. O. Box DS 1636
Dansoman - Accra
Tel: +23302939900 / Mobile: +233243798102
Website: www.regent.edu.gh