$1.5bn GETFund Loan Gets Approval From Parliament Amid Minority Boycott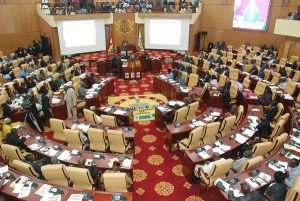 Another boycott by the minority was witnessed at a time Parliament approved a $1.5 billion facility for the GETFund for educational infrastructure in the country.
The minority declared a stand that several issues around the loan lacked clarity and therefore they would have nothing to do with the approval.
The $1.5 billion facility would among other things utilise portions of GETFund revenues to service medium term debts.
Government has indicated that it would expand infrastructure across schools in the country especially at the Senior High level to provide adequate facilities to phase out the double track system.
"I have drawn the house's attention, if the right thing will be done, we will take part, but if the right thing is not going to be done, government is not here, we don't know who the lender is for the question to be put. We may have nothing to do but to wash out hands off this deal," he said.
But the 1st Deputy Speaker, Joe Osei Owusu held that the terms of the facility had been sufficiently debated and led the process for the motion to be approved.
The Deputy Minister of Education, Dr. Yaw Osei Adutwum months earlier said the deal will help the government achieve the Sustainable Development Goals 4 that touched on quality and accessible education.
"As I speak with you, GETFUND has estimated that within the next 10 years or so they will be able to get revenue about 3 billion dollars. Now cabinet has approved and we would bring to parliament that we want to take 1.5billion dollars that is 50% of the projected revenue and dedicate 500million dollars to completing all GETFUND projects at 70% of completion," he said.
---CitiNewsroom