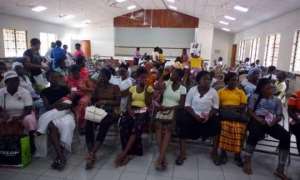 A clarion call has been made to Medical Laboratory Scientists to sensitise the public on the importance of voluntary blood donations as part of efforts to restock the blood bank.
Professor Mrs. Ivy Adwowa Efiefi Ekem, Dean of School of Medical Sciences, Cape Coast University, who made the call said Medical Laboratory Scientists should see every blood donor as a treasure, make them feel appreciated, treat them with respect, track and retain them.
She was addressing doctors, medical laboratory scientists, among other stakeholders at the third ECOWAS Regional Conference of the African Society for Blood Transfusion (AfSBT).
The two-day conference, which attracted members from Ghana, Cape Verde, Republic of Benin, Sierra Leone, Burkina Faso, Gambia, Togo and others, is being held on the theme 'Voluntary unpaid blood donation- requirement for quality health system'.
They should help identify prospective donors from religious bodies, tertiary institutions, private companies and corporations, credible Non-Governmental Organisations, through media campaigns and others.
She said dedicated effort should be made into seeking such people, analyse the safest groups to be relied on for blood service product and once recruited, they should be assisted to become regular donors.
'Issues of relation or the donor being given blood when needed should ideally not be part of the bargain,' she stressed.
Professor Ekem suggested that souvenirs given to donors should not be over-prioritised as that would be seen as paying for the donation, but be appreciated that their voluntary contributions were already invaluable that was being recognised and encouraged.
The first female Haematologist advised that donor clubs be formed and made effective and visible if others would be attracted to them.
In the cause of drawing blood, donor must be made to feel comfortable so as not to deter them, she cautioned
She called for proper care of donor organisers and recruiters by the blood service and said they should not be left out of the decision making process.
Mrs Ekem appealed to the staff to desist from the negative attitudes towards government work; instead, they should get the work done as expected.
Professor Philip Olatunji, AfSBT ECOWAS Region Chairman, said the theme was carefully chosen to reflect the most important aspect of safe blood transfusion, which source was quality blood donor.
He urged participants to take active part in the deliberations so that they would be equipped to seek and obtain fresh and young blood from voluntary altruistic sources.
----Ghana News Agency