Attempts To Divert Export Petrol Foiled By GRA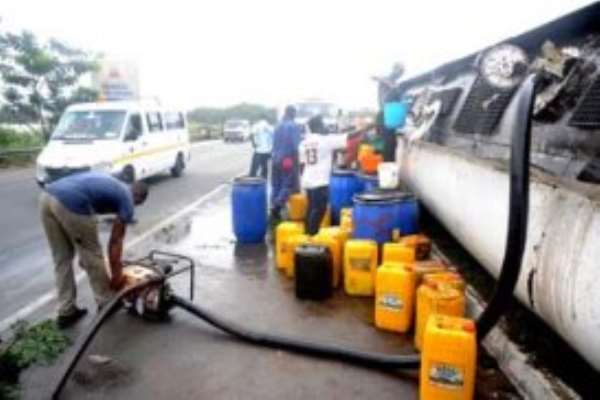 The vigilance of the Ghana Revenue Authority (GRA) has led to the interception of a consignment of export petroleum products valued at GHc 1.3million, which was in the process of being diverted from a tanker yard at Kpone barrier, near Tema.
The Preventive Unit of the Customs Division of the GRA) and the Surveillance and Monitoring Unit of the same authority, which undertook the operation on Monday, November 19, 2018, has maintained armed guards at the tanker yard as at the time of filing this story on Tuesday (yesterday).
The Deputy Commissioner of Customs in charge of Preventive, Mr Seidu Iddrisa Iddrisu, confirmed the interception to The Chronicle in a telephone conversation.
The preventive boss stated that they were going to collaborate with the National Petroleum Authority (NPA) to conduct indepth investigation into the attempted diversion of the products.
The paper had established that the five (5) bulk road vehicles allegedly bore a francophone West African state's registration number and went to load the petroleum products from one of the depots meant for export.
These loaded bulk carriers were reportedly fitted with electronic- tracking devices meant to police the products to their final destination.
After installing the devices on them, drivers of the loaded trucks went and parked in the said yard (owner's name being withheld by the paper) in the night of Friday November 16, 2018, at a time they should have left the country.
The paper's investigation disclosed that in the afternoon of Monday, someone said to be an expert was allegedly engaged by owners of the petroleum products who went to disconnect the tracking devices.
As all was set for the transfer from the holding bulk carriers to another, the team from the Surveillance and Monitoring, backed by the Preventive Unit of Customs entered the yard and intercepted the trucks without the installed tracking devices nor a form of customs declaration.
The Preventive boss, Mr Iddrisu, commenting further stated that the effort with NPA will focus on the efficiency of the tracking devices, among others.