China's Irresistible Loans: A Catalyst To Colonize Africa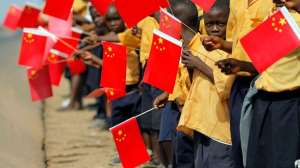 Africa is the richest continent in the world, despite its population plagued by poverty. In the past, Europe took possession of Africa,'s resources through slavery, colonialism, Apartheid and even through medical crimes. After Europe lost Africa through independence in African states, it's now the turn of China
By providing economic assistance to Africa, China does it in a completely different way than the brutal and savage plans Africa's colonial masters used. China is now using loans as a bait to colonize Africa.
Over the past 20 years, China has become Africa's largest trading partner and one of the largest foreign investors. In 2016, trade between China and African countries exceeded $ 128 billion, with an additional $ 140 billion provided by the People's Republic of China to countries in the region in the form of loans.
From 2006 to 2015, grants from the organization of cooperation between China and Africa increased from $ 5 billion to $ 60 billion. China has implemented projects such as the construction of the residence of the President of Mozambique, the parliament building in the Congo and the high-ranking residence officials in Uganda, which gives China the opportunity to 'colonize' these countries.
The Foreign Policy Magazine wrote that most of the overwhelming part of the fund granted for the development in Africa by China goes into the pockets of local corruption. Since 1960, Africa has been pursuing a policy against colonization.
China, in turn, used this struggle in its own interests, seeking to plunge the people of the region into debt, depriving them of their resources and their sovereignty. For example, in Djibouti, the level of public debt reached 86% of GDP, and 80% of its share is loans issued by China.
There are also predictions that in Zambia such reckless lending could lead to the transfer of the state-owned electricity company ZESCO to China.
However, not all African leaders China's irresistible loan can sweep them of their feet. The newly elect Sierra Leone leader, Julius Maada Bio, has cancelled a $400m (£304m) Chinese-funded project to build a new airport outside the capital Freetown.
Even though African leaders see China as a flexible partner, in regards to loans, Maada Bio cancelled the loan agreement the former President, Ernest Bai Koroma, signed with China before he lost elections in March.
"After serious consideration and diligence, it is the Government's view that it is uneconomical to proceed with the construction of the new airport when the existing one is grossly underutilized," said a letter from the country's Minister of Transport and Aviation to the project's director.
Actually, the cancellation makes sense, the fact that business in Sierra Leone and the economy collapsed during and after Ebola. The country is still recovering after the deadly man-made virus devastated the country.
It's clear that China has now taken over Africa after colonization but there are more questions than answers. When will Africa stop borrowing or start lending other countries money? Because the continent is rich enough to give loans to other countries.
Evidently, Africa is not yet ripe to utilize its own resources, therefore, after China, who comes next? Or probably, they will stay with China for life.