Egypt to host third African Heads of Judiciary summit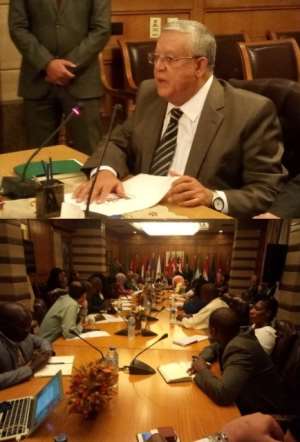 By Godfred A. Polkuu, GNA's Special Correspondent, Egypt
Egypt (Cairo), Nov. 17, GNA - Dr Hanafi Al Guebali, the Chief Justice of the Supreme Constitutional Court of Egypt, says Cairo, the Egyptian capital, is ready to host the third All African Heads of Judiciary and Supreme Court Summit, scheduled for February, 2019.
He said the summit was particularly important to the Egyptian Government because it was going to discuss 'issues of daily life'.
'This meeting is very important not only for the African continent, but for the international community as well.'
Dr Guebali was interacting with participants of the 52nd training course for African young journalists.
They were drawn from Ghana, Burkina Faso, Sudan, Zimbabwe, Ethiopia, Southern Sudan, South Africa, Gambia, Niger, Cote d' lvoire, Uganda, Djibouti, Tunisia, Namibia, Nairobi, Lesotho, Botswana, Congo, Egypt, Gabon, Angola and Senegal.
The training programme was organized by the Union of African Journalists in collaboration with the Egyptian Information Ministry.
Mr Adel Omar Sherif, Deputy Chief Justice of the Court, said about 45 Chief Justices and their Deputies attended the last year's summit.
He said the coming meeting would create opportunity for the Chief Justices to make follow ups on recommendations made at their last two meetings.
Mr Sherif added that they would be looking at the establishment of a website connecting judicial councils across Africa to be used as a mechanism for training programmes for judicial officials.
President Abdel Fattah El Sisi had provided funds that would be needed to launch the website.
GNA