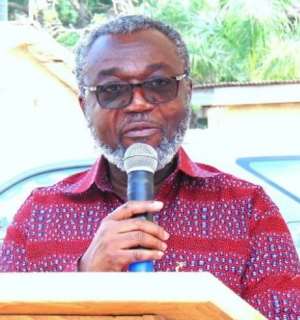 Dr Anthony Nsiah-Asare, Director-General of the Ghana Health Service, has said it is very important to look at Non-Communicable Diseases (NCDs) holistically to ensure that persons with the disease are able to enjoy life in line with the objectives of Ghana's policy on NCDs and the NCD Control Programme.
He said NCDs are diseases of significance to public health and in countries still grappling with infectious diseases such as Ghana, out-patient attendance in the facilities were still dominated by communicable diseases such as malaria, acute respiratory tract infections, skin diseases, intestinal worms and diarrhoeal.
Dr Appiah-Denkirah was speaking in an address read for him at the opening of a two-day meeting of the Ghana Non-Communicable Diseases Alliance in Accra.
The event was held under the theme: ''Ensuring a People-Centred Approach to Ghana's NCD Response''.
Dr Appiah-Denkyirah said NCDs such as diabetes and hypertension also account for a significant proportion Out-Patient Department attendance, admissions and deaths in our facilities adding that stroke, for example, as a common complication of hypertension and diabetes was among the leading causes of deaths in the country.
He said there is the need to regularly provide healthcare for people with NCDs as the concomitant economic costs and loss of productivity are all evidence to the fact that the burden of NCDs and associated costs are not restricted to the person with NCD but society at large.
''For us in the health service delivery sector, the spectrum of prevention from primary to secondary prevention remain our focus while efforts are pursued to ensure that all other relevant sectors play their role in reducing the burden of NCDs in Ghana'', Dr Appiah Denkirah said.
He said the health sector in particular was positioned to provide the needed support for screening, diagnosing and managing cases of NCDs to ensure optimum health.
To this end, the Director-General said, several strategies have been implemented while new and innovative ways are being explored to improve these adding that the inclusion of some NCDs in the benefits package of Ghana's NHIS is one way of alleviating the burden on persons with NCDs particularly with economic costs and access to healthcare, the expansion of health facilities to provide specialized care, the training of healthcare workers to manage specific disease conditions including NCDs and availability of screening and diagnostic services are all part of continuous efforts to reduce the burden of NCDs.
Dr Appiah-Denkyirah appealed to Non-Governmental Organizations (NGOs) to play an advocacy roles and also urged them to establish patient groups for specific NCDs and work with them towards improving their lives.
Dr Beatrice Wiafe Addai, Chairperson of Ghana NCD Alliance, called on all to be on deck to ensure that the alliance achieves its goal. GNA