German NGO Organizes Free Vacation Classes For Deprived Kids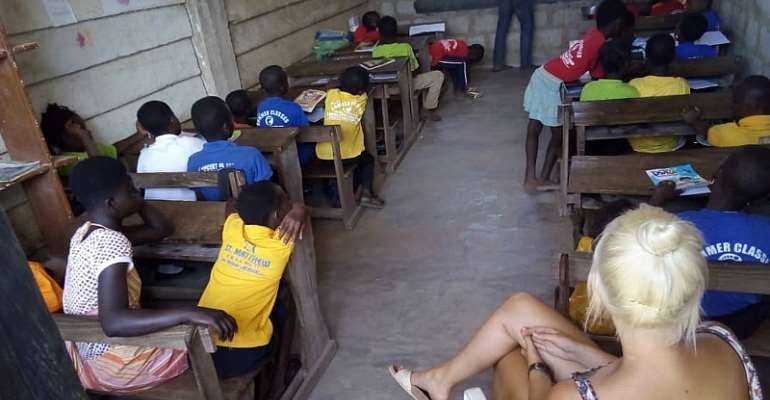 A German non-governmental organization (NGO), Praktikawealten, has organized special classes for pupils of Beneficial Projects School, a fee-free school at Kokrobite, a fishing and farming community in Accra.
Practikawealten provided meals, snacks and free tuition for the pupils drawn from surrounding towns and villages, for the month-long programme and also paid teachers and other staff.
The pupils benefited from general tuition, aerobic sessions, creative arts, choreography, dance, culture, German language lessons and floats around the community,
According to Mr. Benjamin Kwesi Dede Obeng, Proprietor of P. Brainy Kids School and the initiator of the Beneficial Projects School, the classes were meant to engage the children in educative activities as they wait for school to reopen.
"This is an annual project that Praktikawealten has been organizing for the children from very deprived homes, to engage them in educative activities as they wait for school to reopen. It is meant to improve on their level of education and keep them away from some vices," Mr. Obeng explained.
Mr. Obeng was optimistic the vacation classes would contribute tremendously to building the future of the nation, considering the quality Praktikawealten put into it.
He lauded the German NGO for continually supporting the tuition of many deprived children in the community, whose parents cannot afford it, urging other organizations to emulate it.
He appealed to parents to prioritize the education of their children irrespective of their economic situation.
"Education holds the key to the future of the individual and the nation and that is why I want to appeal to parents not to sacrifice the education of their children for anything. It is the surest investment parents can ever give to their children so parents should endeavor to educate their children at all costs." Mr. Obeng appealed.