Suspected gas cylinder blast kills 42 on Zimbabwe bus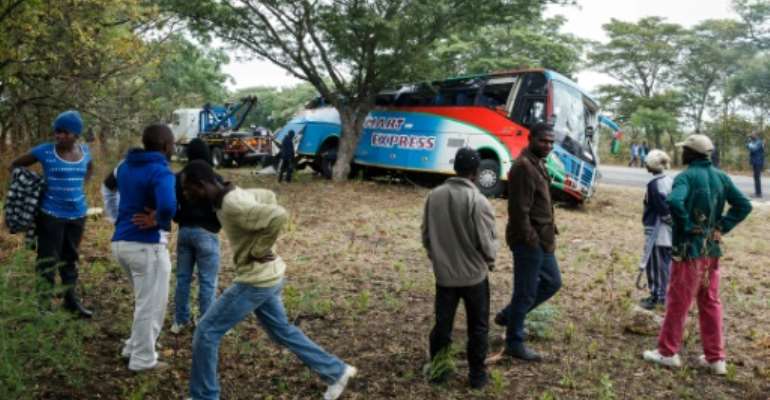 At least 42 passengers were killed, Zimbabwe police said Friday, after a suspected gas cylinder exploded on a bus, with pictures showing the burnt-out wreckage of the vehicle.
The Zimbabwe Broadcasting Corporation published photographs of the destroyed vehicle on a highway between the South African border and the second city Bulawayo.
"At the moment we know that more than 42 people died," police spokeswoman Charity Charamba told AFP after the accident late on Thursday, adding many of the dead were "burnt beyond recognition".
She said the driver who survived the accident "suddenly sensed a strange smell in the bus" around 11:00 pm (2100 GMT) and pulled off the road turned on the lights and the bus caught fire.
Many of the 70 passengers were trapped in the inferno.
The bus company Brooklyn Buses said in a statement released to local media that it was "remorseful, deeply shaken" by the loss of so many lives.
"It is suspected a gas cannister smuggled by a passenger exploded in the luggage cabin," it said.
"Upon sensing something was amiss, the bus driver pulled over to check and when he switched on the lights there was an explosion inside the bus," said the company.
Injured in hospital
The bus company gave a lower death toll of 31, adding that many others were suffering "serious injuries".
Police have launched an investigation, Charamba added.
Public broadcaster ZBC said around 30 injured survivors are being treated at Gwanda town hospital.
The vehicle was travelling from the small town of Zvishavane to South Africa's border town of Musina when the explosion happened.
Some passengers reportedly escaped through windows.
Last week, 50 people were killed when two buses collided on a road between the capital Harare and the eastern town of Rusape.
"I was devastated to learn of last night's tragedy, the second major accident in recent weeks," President Emmerson Mnangagwa said on Twitter.
"I urge all my fellow citizens to be extra cautious on the roads -- check the safety of your vehicles, slow down, put safety first."
Traffic accidents are common in Zimbabwe, where roads are riddled with potholes due to years of underfunding and neglect, and driving standards can be poor.
In June last year, 43 people were killed in a bus crash in the north, along the highway leading to neighbouring Zambia.