Kinapharma helps Sunyanihene To Deworm Inmates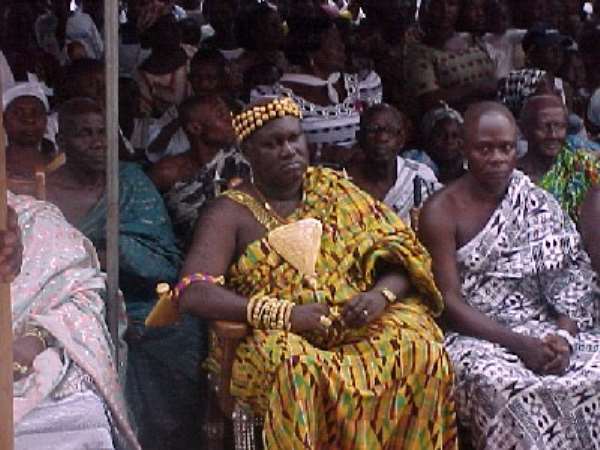 Nana Bosoma Asor Nkrawiri II, Omanhene of Sunyani has presented a large quantity of deworming drugs and tooth paste to inmates of sunyani Central prisons.
The presentation was part of events marking the 25th anniversary celebration of the chief's enstoolment.
The drug valued at about 3million cedis were donated by Kinapharma Limited, a leading pharmaceutical company in Ghana as sponsorship to the anniversary celebration.
Presenting the drugs, Nana Bosoma Asor Nkrawiri advised the inmates to always observe personal hygiene to present diseases.
He said if they contract diseases while in prison they would not be strong enough to work to fend for themselves.
Nana Bosoma added that the best way to stay healthy all the time is to observe personal hygiene.
The chief was accompanied to the prison yard by Nana Yaa Nyamaa, queen of sunyani Traditional Area and their elders.
Nana Bosoma also presented assorted food staffs and soaps valued at about 5million cedis to the inmates.
Inmates advised to live in good lives
The inmates of Sunyani Prison have been advised to refrain from acts that may land them into prison custody after serving sentences.
On a visit tour to the prisons Nana Bosoma Asor Nkrawiri as part of his 25th anniversary gave the advice when he met 791 inmates in the prison.
He entreated them to live in a holy and upright life even in the prison and as much as possible respect the officials as well.
Nana Bosoma after addressing them donated food stuffs and deworming drugs to ensure to ensure quality health care delivery of the inmates, the drugs were giving to Nana by Kinapharma LTD.
DSP Hannah Asiamah the officer in-charge of the female prisons appealed to Nana and his elders, NGO, churches to assist them financially to enable them send inmates who fall sick to the hospital in time.
According to her, the officers sometime find it difficult when any of the inmates gets ill, adding that they suffer before taken the person to the hospital.
The Queen of Sunyani Nana Yaa Nyamaa assured the officials that they traditional council will do all they can to help them.
She further advise the inmates to be of good behaviour to their officials.
--