Mahama Makes Strong Case As A 'Unifier'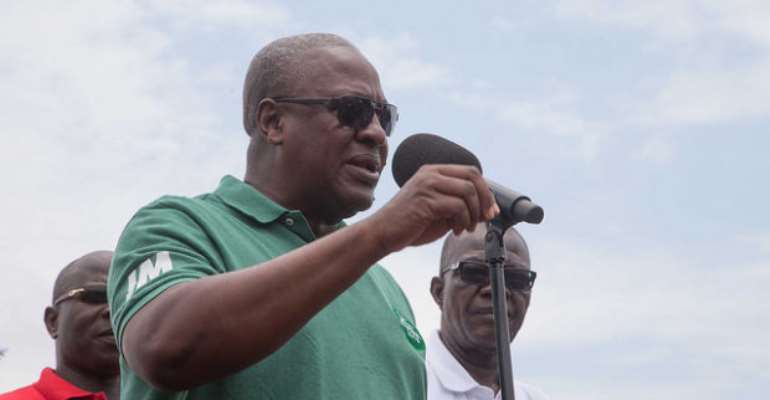 Former President John Dramani Mahama has told supporters of the National Democratic Congress (NDC) in Obuasi in the Ashanti Region that he is "a unifier" in a bid to garner wide support from party members.
He claimed Ghanaians needed a tried and tested leader like him to be able to entrust their votes with, and asserted that he was the best bet for the NDC to win back political power.
Speaking to NDC supporters in Obuasi, Mr. Mahama stated categorically that he is a marketed candidate and would bring honour to the party in the next general elections if elected presidential candidate.
He, therefore, appealed to the branch and constituency executives to give him the mandate as the party's presidential candidate in the upcoming primaries for a victory in the 2020 presidential and parliamentary elections.
"We need a unifier as a flagbearer who can get us power, a marketable candidate with tested and proven records. Ghanaians need a tried and tested leader and I am the one to be chosen among all those who have filed to contest the flagbearership," he emphasized.
So far, 12 people have submitted their names to be candidates of the NDC presidential primary election, but former President Mahama believes the NDC will have a brighter chance to win with him as the leader of the party.
"Vote for Mahama because the signs are there that God will give us victory in the next general elections. There is fire in the new branch and constituency executives elected to work assiduously for the party to come back to power, and we will bring back comfort to Ghanaians," he stated.
He accused the ruling New Patriotic Party (NPP) government for delaying the reconstruction of the Obuasi-Anwiankwanta road which he claimed to have given to contract before the NDC exited power on January 7, 2017.
According to him, the road was awarded to Siemens Construction and mobilization was done in addition, but the NPP government suspended it for reasons best known to them.
"We constructed the Praso-Anwiankwanta road. We were about to start the Anwiankwanta when we exited power. We need this road and therefore it should be re-awarded if the government does not want our contractor," he submitted.