Gov't To Provide Seed Money For National Cathedral – Ofori-Atta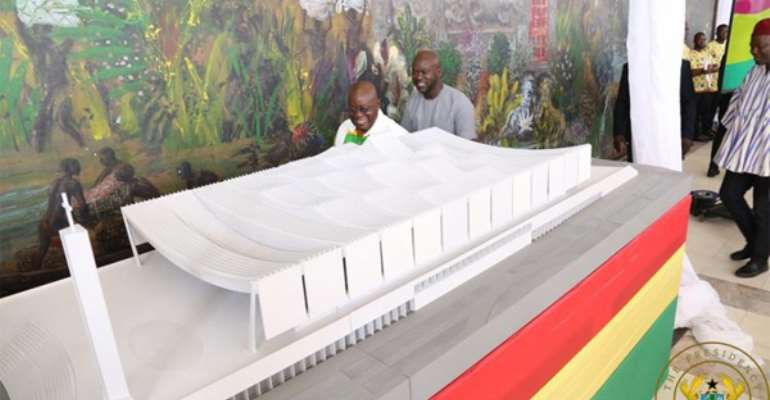 The Finance Minister has said the building of the National Cathedral will not put undue financial burdens on the state.
Ken Ofori Atta said it is a right thing to do and government is facilitating the "process by providing the land, the Secretariat, and seed money for the preparatory phase."
Presenting the 2019 budget to Parliament Thursday, the Minister said he has "proposed a partnership between the State and the Ghanaian Christian community both at home and in the Diaspora."
The President cut the sod for the construction of a National Christian Cathedral for the country during the 60th year of the country's independence on March 6, 2017.
The Cathedral will house impressive chapels and baptistery, a 5000-seat auditorium, expandable to 15,000 people for national events and celebrations.
It will, among others, have a grand central hall, a music school, and will house Africa's first-ever Bible museum and documentation centre.
But even before work starts on the project, the National Cathedral has been caught in a controversy.
Government has come under more pressure to disclose the cost taxpayers would suffer in the construction of the edifice.
Although government spokespersons have said that the cost of building the religious edifice would not be at the cost of the state, critics and some experts are not convinced.
Some judges would have to be relocated from their homes to make way for the National Cathedral, questions have been asked about how much that would cost the state.
Government's decision to get involved with plans to build the Cathedral has hit a snag as a suit has been filed at the Supreme Court against it.
James Kwabena Bomfeh, a former Youth Organiser of the Convention People's Party (CPP), wants an interlocutory injunction to restrain the construction of the controversial Cathedral.
Kabila wants the Supreme Court to restrain government or any of its representatives "from being involved in or taking any steps towards the construction of the Ghana National Cathedral, including the demolition of residences of justices of the Superior Courts."
But the Finance Minister says the importance of the edifice cannot be over-emphasised saying "the National Cathedral project will also bequeath to the country a gracious national park for all Ghanaians; bring new skills, technology and jobs to the country; and will act as a beacon to national, regional and international tourists."
He disclosed that the formal launch of the national fundraising campaign for the project is slated for December 28 in Ghana, and February 2019 in the United States.
"This National Cathedral partnership framework operationalises, and indeed is a practical expression, of the social partnership envisaged to foster the participatory development of the country as our collective goal," he said.
-Myjoyonline