'Listening' gov't scraps 35% tax on 10k income earners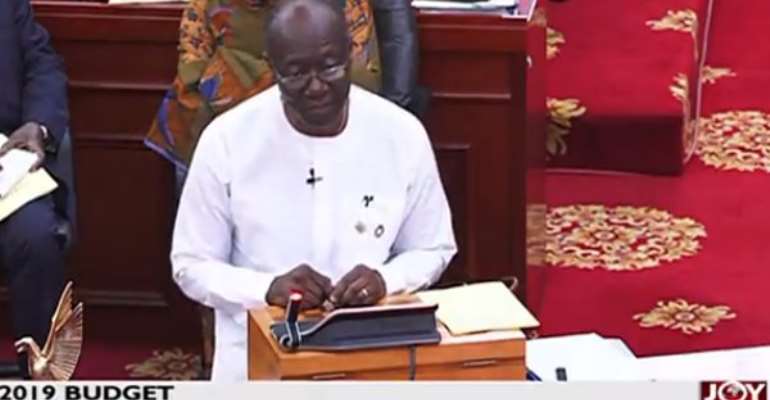 Government has announced it has scrapped additional tax on income earners of Ȼ10,000 and above less than six months after it was introduced.
Finance Minister Ken Ofori-Atta packaged the announcement as a sign of a listening government following criticism of the policy it announced on July 19, 2018 during the mid-year budget review.
The Trades Union Congress (TUC) criticised the tax and directed government to have the courage to tax supernormal profit-making companies like those in the extractive sector.
"We have listened to the feedback from the public and come to the conclusion that some relief from this tax measure is justified," he said on the floor of Parliament Thursday while reading government's 2019 budget statement.
The targeted income earners were to pay 35% more tax as government added a sixth band on graduated income tax rates.
Government said it would affect some 23,000 public servants.
With the scrapping of this personal income tax band, the Finance Minister announced a replacement – a 30% tax on income earners of È»20,000 and above.
The Akufo-Addo government is a revenue-hungry administration with a bucket list of political promises to fulfill.
The tax on income earners of Ȼ20,000 and above is in line with government's plan to raise taxes on the better-off to support programs that benefit the worse-off.
While the rich can expect to pay more, minimum wage earners have been granted tax relief as they will no longer pay income tax.
Government in July 2018, announced a 10% increase in the daily minimum wage reaching Ȼ10.65 from Ȼ9.68.
Government maintained its Luxury Vehicle Tax it announced in July 2018.
For the first time in the country's history, owners of luxury vehicles with engine capacities of 3 litres or more are expected to pay an annual tax on their vehicles.
Vehicles with engine capacities of 3.0 – 3.5 litres will attract an annual tax of È»1,000 Ghana. Those with engine capacities of 3.6 – 4.0 litres will pay È»1,500 annually, while 4.1 litres and above are to pay an annual tax of È»2000.
Story by Ghana|myjoyonline.com|[email protected]