Swedish Philanthropist Helps Kids At Budumburam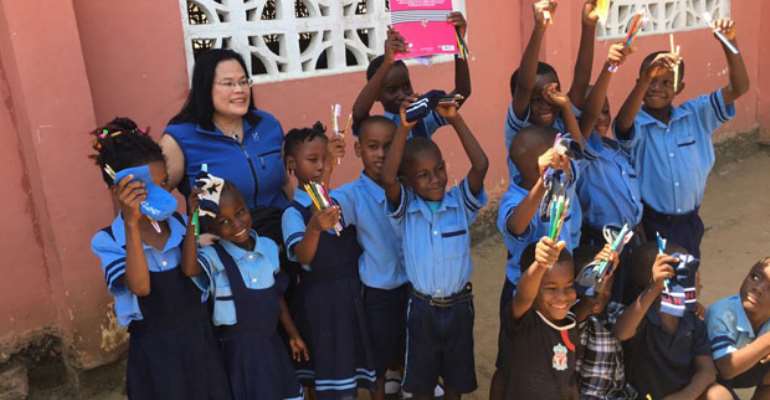 Ms. Pettersson in a photo  with a cross section of class one pupils of the school
A SWEDISH philanthropist, Liselotte Pettersson, has donated sports and educational materials to some poor school kids at the Buduburam Refugee Camp in the Central Region.
Packs of pens, pencils, reading books, sports materials including boots' bags, tennis balls, footballs, among others, were given to pupils at the Refuge Baptist School on Tuesday, November 13, 2018.
The donation forms part of her long-term vision of supporting grass-root soccer development and children empowerment in rural areas in Ghana and Liberia.
She has similarly been supporting some youth soccer teams in Gambia financially, with the view that the world could be a better place to life for everyone through acts of generosity.
It was all excitement for the kids as she visited the school much to their surprise to make the donations.
Ms. Pettersson, who was warmly received by the school's authorities, expressed her passion for helping the needy.
One of the teachers of the Refugee Baptist School, Sampson Kargeor, thanked Ms. Petterson and prayed for more support for the school.
The Refugee Baptist School at Buduburam has been in existence for more than 20 years and it is one of the highly impoverished schools in the Central Region.
The Buduburam Refugee was established in the early 1990s at the commencement of the 15-year civil war in Liberian.
Most kids at the Camp were born there into extreme poverty, a situation which remains a reality today, with many of them finding it hard to get their one-square meal a day.