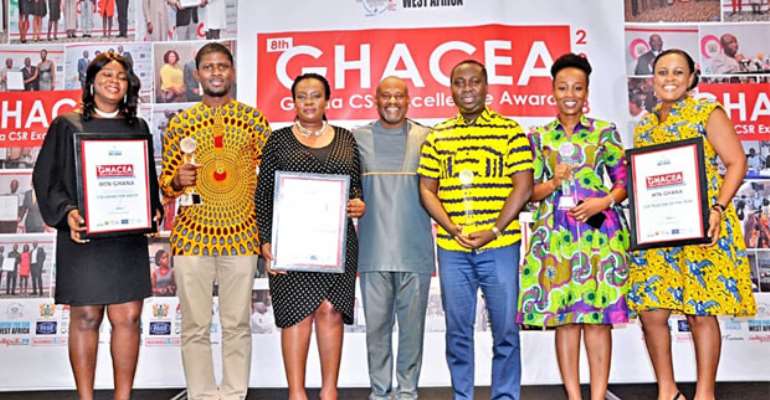 MTN Ghana has been adjudged the CSR Company of the Year 2018 at the 8th Ghana CSR Excellence Awards (GHACEA).
At the same event, MTN Ghana also won the CSR Telecom of the Year Award and CSR Award for Health.
The awards were in recognition of the transformational CSR initiatives that have been implemented by MTN Ghana Foundation to promote social change and positively impact lives in the country.
The ceremony, which was organized by the Centre for CSR, West Africa, is the only CSR Award scheme that is focused solely on how businesses respond to their internal and external stakeholders, environment and society at large.
Acting Corporate Service Executive of MTN Ghana, Pala Asiedu Ofori said, "I am excited that the Foundation has received these awards. The awards attest to the fact that the investments being made by MTN Ghana Foundation are indeed impacting communities across Ghana. MTN Ghana Foundation will continue to brighten the lives of the people within our communities through the implementation of sustainable projects."
She dedicated the award to Board members of the MTN Ghana Foundation, management and staff of MTN and all beneficiaries across the country.
Since its establishment in 2007, the MTN Ghana Foundation has invested and implemented over 142 major projects in the areas of Education, Health and Economic Empowerment, which are impacting an estimated four million directly and indirectly.
In all the MTN Ghana Foundation has instituted 80 educational projects, 52 health projects and 10 economic empowerment projects at total cost of 32 million.
This year, the MTN Ghana Foundation commissioned 40-bed maternity block for the Tema General Hospital.
It also offered scholarships to 100 tertiary students under the Bright Scholarship Scheme.