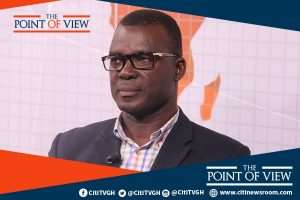 A transport engineer, Dr. Camynta Baezie, says Accra's road masterplan is not fit for purpose.
According to him, the plan is not good enough to be implemented to meet Ghana's road and transportation demands.
Speaking on Citi TV's Point of View on Monday, he indicated that the plan, which captures the pothole-ridden Tema Motorway if implemented, will only worsen the country's road network.
"The [Accra masterplan] study included the Motorway, but I have looked at the study itself in detail and sorry to say, it is not worth the paper it was written on. I can say that authoritatively, and I have written a letter to the transport minister to that effect detailing why the report was not fit for purpose," he said.
He told host, Bernard Avle, that "Although he cannot say if the current minister was using the plan, no other report has been subsequently developed."
The road network in the country has once again come under focus following the violent protests by some residents of Adenta in Accra over the lack of footbridges on the Adenta – Madina highway which has reportedly led to the death of over 190 persons.
The government has announced that work on the footbridges will commence this week.
Motorists that use the Accra-Tema Motorway have also begun protesting over the poor state of the motorway.
The motorway has become a death trap with many dangerous potholes dotted all over the motorway, some of them with steel reinforcements visible in the deep cracks.
There are also concerns in other areas such as Teshie Agblizaa where residents are protesting over their road which has been abandoned for about a decade.
But according to Dr. Camynta Baezie, who is also the Planning lecturer at KNUST, the pockets of challenges with poor roads in the country stems from the knee-jerk approach in tackling challenges regarding the roads in the country.
He said road construction challenges must be solved systemically and not in isolation.
"What we do now is what I call the cosmetic approach to planning. And so we do knee-jerk activities, we fix this only to realize that the problem has shifted somewhere else, we fix that too and the problem shifts somewhere else. The solution is to look at a systems approach," he said.
Underbridges cheaper than footbridges
Meanwhile, Dr. Camynta Baezie has indicated that the country may save more money constructing underpasses for pedestrians than overheard footbridges.
He however that although the choice of an underbridge or an overhead bridge is dependent on the topography of the area among other things.
"Underpasses are cheaper than footbridges, but we have to look at the engineering aspect. Where it is feasible, let's go for it".