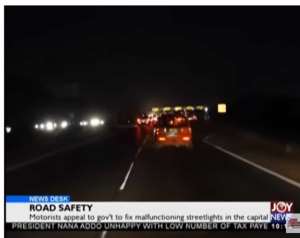 Motorists in the Greater Accra Region are appealing to the government to fit all malfunctioning street lights in the capital.
Speaking to Joy News, some drivers complained that the lack of street lights contributes to road accidents in the country.
"If the streets do not have proper illumination, driving at night becomes a challenge for motorists," one driver told Joy News' Ernest Manu.
He explained that dark streets have become a great concern to every motorist.
The driver added, "when you are not familiar with the road it is easy to get stuck in a pothole or hit another car."
He stated that Ghanaians have gotten to a point where they accept the problem as it is without any complaints.
"We pay money for these lights to be fixed and maintained, we also know nothing will be done but we keep paying because it is an obligation," he explained.
A commercial driver said, "if your car develops a fault on the motorway, you can easily be attacked unknowingly because the streets are dark."
He stated there are many cars that use the motorway which gives the government enough money to fix the roads.