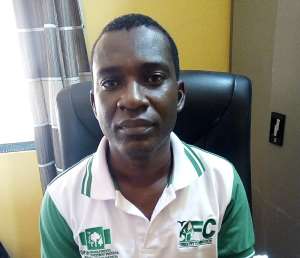 Mr. Godwin Agyemang, the Mankranso District Forest Manager
Management of the Mankranso Forest District of the Forestry Commission of Ghana is embarking on an exercise to destroy all illegal farms in the various forest reserves in the Mankranso Forest District.
Mr. Godwin Agyemang, the Mankranso Forest District Manager disclosed this to a section of the media following the destruction of about 50 hectares of illegal farms in the Desiri Forest Reserve in the Ahafo Ano South East and Asutifi South in the Ashanti and Bring Ahafo regions recently.
Mr. Agyemang emphasized that his office with full backing of the Forestry Commission will continue to carry out the exercise until the Desiri Forest Reserve in particular and other forest reserves in all the four political districts within the Mankranso Forest District of the Forest Services Division are rid off illegal farms.
The manager said authorities will not just destroy those farms but will prosecute the owners and accomplices of those farms as well.
Mr. Agyemang disclosed that one person was arrested in connection with illegal farming activities in the Desiri Forest Reserve during the last exercise and is being investigated for subsequent prosecution.
He regretted that despite efforts by management and personnel to protect and improve the forest cover of the mandated territory, unscrupulous persons occasionally outwit them and indulge in various nefarious activities in reserves due to the vast nature of the reserves and unprotected access into them.
Mr Godwin Agyemang said measures are being put in place to restrict access into the various reserves to avoid the menace of illegal farming, logging and their related negative impacts on the affected reserves.
He also disclosed that arrangements have been made to reclaim all farms that would be destroyed in the coming raids, adding that the 50 hectare farms that were earlier destroyed around Sienchem and Dadiesoaba within the Desiri Forest Reserve have so far been reclaimed.
Mr. Agyemang said the exercise which was carried out in collaboration with the district forestry personnel, the Forestry Commission's Rapid Response Team and the Military met no resistance.
He however commended chiefs, opinion leaders, assembly members and other stakeholders from communities in which the operations were carried out for their cooperation which resulted in the success of the exercise.
Mr. Godwin Agyemang further appealed to all stakeholders in all the districts within the Mankranso Forest District including the media to join the Forestry Commission in the fight against all forms of illegal activities in all forest reserves in his jurisdiction in particular and the country as a whole.