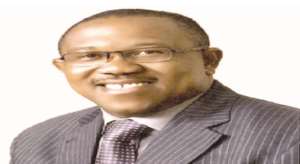 PDP Vice-Presidential Candidate: Peter Obi
I read Mr Abdullahi Haruna Haruspice's article titled "Peter Obi: Ghost of the Past and Reality of Today" and published in the Friday, 9 November 2018 edition of Leadership newspaper with great interest. Sadly, it reminded me of a story my father told us when he was still with us. He told us about two foolish goats. Coming from opposite directions, they met in the middle of a narrow bridge. They began to argue about which of them should go back and allow the other to pass through the bridge first. Both stuck to their guns and soon a fight ensued. The two goats fell into the water below and drowned. And my father called them the two foolish goats.
There is a saying among our people: that you don't stay miles apart and fling your leg in a kung fu fight! Therefore, much as I would not like to complicate the issues Mr Haruscipe raised in his article, I would rather summarise his observations about Peter Obi and make a few comments of my own. But first, it is important to note that Abdullahi's criticism is happening nearly five years after Peter Obi's tenure as governor of Anambra state, and just about when he was nominated as the vice presidential candidate of the opposition Peoples' Democratic Party. So, why is this criticism coming up now if we may ask?
Haruspice accuses Mr Obi of exhibiting "certain needless manifestations that were antithetical to commonsense." He goes on to explain how as governor of Anambra state, Mr Obi at a time literarily "repatriated" some northerners to their states of origin, possibly for no justifiable reason. He accuses Mr Obi of mass-sacking civil servants who were not of Anambra state origin during his tenure as governor, putting a question mark on Obi's commitment to the concept of One Nigeria.
Well, let us agree that governance basically means that we are dealing with people, with peoples' problems and prospects. I am sure Abdullahi will agree with us. People have tempers. People have passions. Humans are not like another piece of furniture. So, it is important they are treated humanely, as fellow Nigerians.
Therefore, if a governor discovers that a section of his state, possibly inhabited mostly by Nigerians from another state, is bent on rubbishing his efforts to develop his state, he calls an executive council meeting to discuss the development. It is the decision of the executive council that is implemented. So, in the case of "repatriating" fellow Nigerians or "sacking" civil servants who are not of Anambra origin, such a decision cannot be made alone by a governor, no matter how executive his office is because these are very sensitive issues.
Abdullahi accuses Obi of playing on the intelligence of his people by pretending to be poor and humble, travelling economy class on flights, even when he is so rich he has a house in London. But just in case Mr Abdullahi forgot: Mr Obi is quite exposed and read in some of the best universities in the world which include the University of Nigeria, Nsukka; Lagos Business School; Harvard Business School, Boston; London School of Economics; Columbia Business School, New York; Institute for Management Development, Switzerland; Kellogg Graduate School of Management, U.S.A; Said Business School of Oxford University and George Business School of Cambridge University.
Could it possibly be news in today's Nigeria that such a man has a house in London? And did Abdullahi bother to check out if Mr Obi bought or acquired the said property in London before or after he became a politician? It could have made some difference. But never mind. People like Abdullahi wouldn't be bothered.
He accuses Obi of double-standards, when according to him, Obi said in 2015 that General Buhari was "too old" at 72 to run for the presidency and now Obi has accepted to work with another 72-year old Atiku Abubakar as vice presidential candidate for the Peoples' Democratic Party. And if you ask me, I think that what has always been priority in Mr Obi's thinking is the salvation of this beautiful and enormously endowed country and its wonderful people. At 72, it is obvious to every Nigerian that Atiku Abubakar looks more robust and ready for the demands of the presidential office than Buhari was at that age. The evidences are rife from how many times and how many months President Buhari was away to London on medical grounds. In effect, what Peter Obi was saying and which people like Abdullahi misunderstood was that at 72 years of age in 2015, Buhari "looked" too fragile, too old, and not sufficiently healthy and fit to cope with the demands of the position he so desperately wanted to contest for. He was "too old" for the job. Maybe, Obi should have said "too sick"! That certainly cannot be a problem.
Then Abdullahi alleges that "Obi was reported in an embarrassing situation where his convoy was sighted and caught in front of Next International Offices in Apapa, Lagos, carrying a whopping sum of N250 million in raw cash." Naturally, it would be quite difficult to believe this version of the narrative. In the first place, Obi was the Chairman of Next International. And so, if ever he carried such a huge sum of money, the money could have been for a reason. It probably belonged to Next International and Next International is not Peter Obi. Besides, who counted the money in the circumstance to prove it was N250 million?
I must admit, though, that I like the way Abdullahi spoke his mind, as if he thought Atiku Abubakar or the Peoples' Democratic Party should have a re-think about taking on Peter Obi as their vice presidential candidate.
If indeed these allegations were coming from the golden heart of a nationalist, one that, "unlike Peter Obi" is committed to the spirit of One Nigeria, why is he recalling all these events five years after Mr Obi served as governor? Why is this article that is criticising Obi in the past coming up only after Atiku Abubakar nominated him as his vice? That might not be difficult to understand. I strongly suspect that Mr Abdullahi was commissioned to come all out to collaterally damage the credibility and image that a public figure who is very much adored by his own people assiduously built over decades.
It is easy to criticise those in government from outside. And many of us who are quick, or even late as in this case, to criticise those in government need to appreciate the fact that the art of governance can be quite intriguing. And as far as Nigeria is concerned, the challenges are simply enormous.
A few weeks ago, I got so fed up with all the noise Nigerian leaders were making about "fighting corruption" that I woke up in the middle of the night and wrote my mind in an article that was published in the 18 October 2018 edition of Modern Ghana newspaper and titled: "Fighting Corruption in Nigeria". How can anyone successfully fight corruption in Nigeria when "Corruption" is the surname of the Nigerian System? The system is entirely corrupt and so any fight must start from the system – at least start by paying workers on time, every time. Start by enacting laws that will make it compulsory for all Nigerian children from primary school to learn the three major languages, Hausa, Igbo and Yoruba. In two generations, we would be making progress in the evolution of a true spirit of Nigerian nationalism – One Nigeria!
Start by installing water and electricity in all the villages, towns and cities in Nigeria 24 hours a day, seven days a week. In such a way people can work two or three shifts all round the day and the problem of unemployment would be neatly addressed. Start by bridging the gap between the very poor and the very rich families in such a way that citizens who earn, say N499, 000 per annum and below pay a 20% tax on their income and those who earn from N500, 000 and above pay 40% of their income as tax. These are the infrastructural needs that can form a yardstick with which gubernatorial performances can be measured.
It is just like my father used to say when he was with us: that no man does better if the good he does is not appreciated. Mr Peter Obi like a few others made huge impressions across the country in his years of stewardship as governor of Anambra State. Such men should be encouraged to do better and not vilified.
We need to appreciate the fact that there is no age a man can say: "I've known it all". Peter Obi has never laid any claims on infallibility. On the contrary, all good men, like Peter Obi, would like to learn from their mistakes and improve on their previous performances, given their challenges. I am sure that if Mr Haruspice had made out time to interview Peter Obi before his write-up, Peter would have revealed to him the things he thought he did not get right when he was governor. All leaders in positions that are not permanent fixtures are like that.
There is always the social demand on them, coming from friends and family, close and distant relations, school and course mates, religious organisations, royal establishments, students unions, foreign dignitaries and so on. The governor has to deal with all these and he is just one man. His advisers will advise him but at the end of the day it is he who must take the final decision in most cases.
So, for people like Mr Haruspice, my advice is to let sleeping dogs lie. Nigeria's democracy is beginning to take shape in the likeness of the two most influential countries in Nigeria – Britain and America – where the ruling Conservative and the opposition Labour Parties and the ruling Republican and opposition Democratic parties are the two dominant parties that have continued to produce the Prime Minister and the President since 1920 and 1886 respectively. In Nigeria, the ruling APC will be challenged by the PDP, the shadow government. And if APC is willing to get it right, the party needs to encourage a strong and responsible opposition as a matter of priority in building up a true democratic country.
After all the "changes" the Buhari administration made in their four years of rule, like concentrating all the senior government positions in the north and escalating violence especially the wanton killings in the north, people like Peter Obi and Atiku Abubakar should be encouraged by all Nigerians to do much better than that, not that they are infallible. They are not God.
Mr Asinugo is a London-based journalist, author of 'The Presidential Years: From Dr. Jonathan to Gen. Buhari' and publisher of Imo State Business Link Magazine (imostateblm.com)