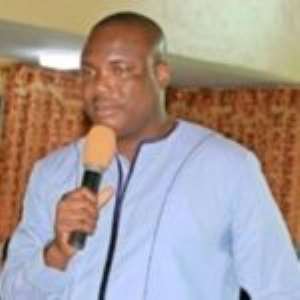 Four staff of the Tema Metropolitan Assembly (TMA) are in police custody for allegedly selling the assembly's pay-loader as scrap.
The accused are Alexander Allotey, TMA Mechanical Engineer, Lawrence Agyekum, Special Aide to Felix Mensah Nii Annan-La, the Tema Metropolitan Chief Executive (MCE), and who doubles as the Assembly Member for Ottawa Electoral Area, Stanley Arthur, and one Figo, a security aide to the MCE.
The machine was sold for GH¢12,000 to a scrap dealer at Community '5', without the knowledge of the TMA, and after the Assembly got wind of the alleged thievery, placed the accused persons on leave, whilst the Tema Regional Police Command investigated the matter.
Shockingly, the illegal sale of the pay-loader was sold two years ago, but after an anonymous person whispered the act to the MCE, he directed the Public Relations and Compliant Committee (PRCC) of the Assembly to initiate investigations into the matter, which reported back to the MCE that the machine had been stolen.
Felix Annan-La, on November 7, 2018, lodged an official compliant to the Tema Regional Police Command, which also instructed the Community One District Police Headquarters to investigate the matter, and eventually grabbed the four, who are presently in the cooler.
But, a police source hinted that the accused persons had given conflicting reports to the police, and accused other assembly members for aiding and abetting the crime.
Some members of the TMA and Tema West Assembly have expressed disgust at the MCE's action, which they described as irrational and an attempt to disgrace "the honourable members of the TMA."
Some members of the Tema West Assembly said that the Tema MCE, as the head of MESEC, could not use the security agencies to conduct an investigation to establish a prima facie case against Lawrence Agyekum, an accused and Assembly Member for Ottawa Electoral Area, before his arrest.
They claimed the Tema MCE did not know his role as the head of MESEC, because he had not taken time to read Act 963 of the Local Government Act.
Felix Mensah Nii Annan-La, when contacted, declined commenting on the matter because it had been handed to the police to investigate.