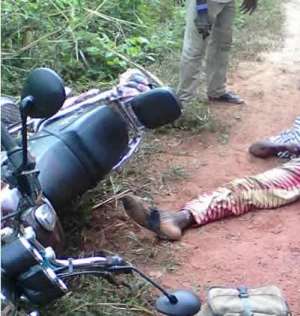 Some unknown assailants have attacked and butchered a farmer at a spot between Tomfokrom and Nsuta in the Bosome Freho district of Ashanti Region.
The 59-year-old man identified only as Obodai, was sending his ward to school when he was attacked on Friday, November 9.
According to reports from Joy News' Erastus Asare Donkor, the farmer takes his son to the only school in Nsuta every morning.
His lifeless body was found on a bushy road with machete wounds to the head, shoulders, arms and other parts of the body.

Obodai's motorbike and the boy's school bag were found lying close to him.
The 18-year old son of the farmer was found after residents in the community mounted a search for him.
He had also sustained machete wounds and was barely breathing. The boy was rushed to the hospital on a motorcycle by one of the residents.
Joy News' Erastus Asare Donkor stated the road between Tomfokrom and Nsuta is very bushy and unsafe for use.