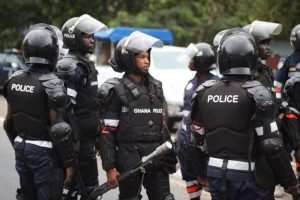 The Northern Regional Security Council (REGSEC), has imposed a curfew on Nakpache, a small community in the Yendi Municipality after violent clashes there on Thursday.
The clashes left one person dead with some houses burnt.
The deceased has been identified as the Chief Imam of Nakpache, Adams Alhassan.
Police say the clash occurred after a farmer shot and killed a pig belonging to a Kokomba.
A joint Police and Military team has been deployed to the area from Yendi to ensure security.
The Interior Minister, Ambrose Dery, has told Citi News that the personnel are in firm control of the area and is optimistic that total calm will be restored soon.
He has however urged residents to stay calm and resort to lawful processes in seeking redress for matters in which they feel aggrieved.
"I want to assure all the people in the area, they should remain calm and that the police and the military are in control of the situation. Nobody should take the law into his or her own hands to do anything, but for now, we've looked in there and we want to advice everybody to resort to due processes," he said.
Meanwhile, schools in the villages under the Nanumba North Municipal Assembly, have been closed as a result of the situation.