Refuge Train To USA: Thousands Of Central Americans Seek Asylum In Mexico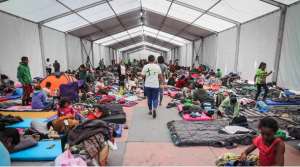 A group of migrants in an emergency shelter in Mexico City: Already 3230 refugees from Central America have applied for asylum in Mexico.
Several migrant caravans from Guatemala, Honduras and El Salvador are currently en route to the United States. Many refugees have already applied for asylum in Mexico.
Thousands of Central Americans from the so-called migrant caravans have asked for asylum in Mexico. So far, 3230 asylum applications have been submitted, said the Mexican Ministry of Interior. A majority of applicants have received temporary papers that they can work with.
Recently, many people from Guatemala, Honduras and El Salvador had fled poverty and violence in their home countries and made their way to the United States. US President Donald Trump spoke in the election campaign before the important congressional election of an "invasion" and threatened to let the people on the border, if necessary, stop the military.
US border with Mexico:
Donald Trump threatened with violence against migrants with 15,000 US soldiers
The first caravan is currently pausing in a stadium in Mexico City. According to various estimates, there are 2,000 to 4,000 people from Central America. The group is still waiting for the arrival of more migrants and then wants to discuss the next steps.
The nearest border crossing in McAllen in the US state of Texas is about 1000 kilometers away, to Tijuana on the border with California there are about 2900 kilometers. A second caravan of 1,500 to 2,000 people is currently located in Tapanatepec, Oaxaca state. A third group of 2,000 Salvadorans are resting in Huixtla, Chiapas State, in the south, and want to continue their journey on Wednesday.
Francis Tawiah (Duisburg - Germany