ECG Central Region Undergoes Safety Training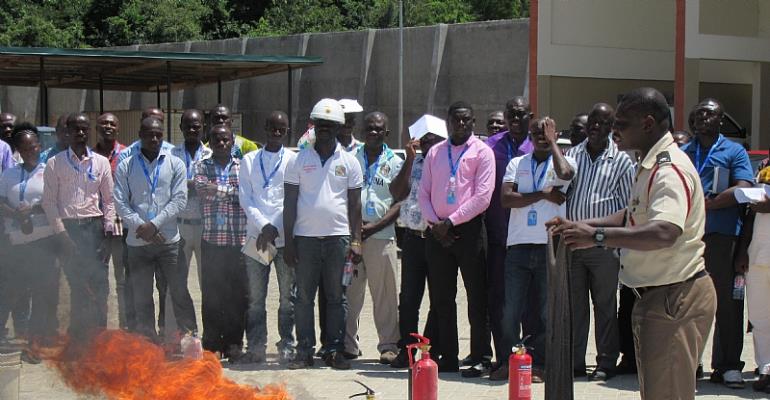 The Central Region branch of the electricity company of Ghana (ECG) has organised two days training session on fire safety for the staff.
The training which was held on 15th and 16th, October 2018, sought to educate staff on fire safety and to ensure them conversant with the methods of combating fire in the event of an outbreak.
Speaking to participants at the training, Mr. Kwesi Hughes (DCO III), regional safety officer of the Ghana national fire service recounted that, fire outbreak can be as a result of carelessness, arson or accident.
He also cautioned against the use of sub-standard electrical cables for wiring. Overloading of sockets, faulty electrical appliances lack of maintenance and poor installation of electrical equipment.
During the training, staff were taken through the pragmatic use of fire extinguishers to fight fire.
The Regional Engineer of ECG, Ing. Bismark Otoo noted that, the exercise formed part of the effort to periodically refresh staff on the use of fire extinguishers.
Ing. Enoch Asante regional safety officer intimated that, the training was important because it adheres to the fire precaution (premises) regulations.
"LI 1724, 2003 expounds that, all public premises should have fire safety protection and certificates", he said.
The Regional Public Relations Officer, Mr. Awal Marmah Boye added that, fire safety issue should be handed promptly and urged staff to develop personal responsibility to prevent fire.
District Manager of various operations area also took part in the exercise in order to educate staff in their respective locations.
Participants expressed delight about the impact of the training commended management for the initiative.